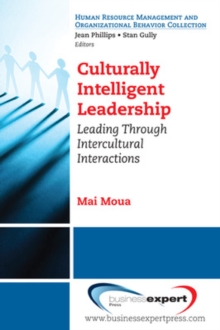 Culturally Intelligent Leadership: Leading Through Intercultural Interactions
Paperback / softback
Description
Organizations in the 21st century are in need of culturally intelligent managers and leaders.
The pressure to build authentic global networks and to cultivate an appreciation and respect for cultural differences and similarities has driven cultural intelligence to the forefront of diversity and inclusion work. Cultural intelligence is vital to working inter- and intra-culturally in today's global economy.
It is the unique ability to identify, recognize, and acknowledge the differences and similarities that exist between and among cultural groups and systems.
When applied, cultural intelligence can bridge the gap in cultural misunderstanding by creating awareness, knowledge, and patience of cultural norms and behaviors. As an organizational leader, learning to effectively lead and communicate cross culturally demands awareness, knowledge, and skill, as well as persistence, practice, and restraint of judgment.
Culturally intelligent leaders understand that just because they acquired or developed the skills, awareness, and knowledge for one cultural situation does not mean that those behaviors and skills are applicable to another. Even if leaders are highly skilled, knowledgeable, or well trained, they can still make cultural mistakes. The purpose of this book is to outline the important ideas of cultural intelligence and the steps that must be considered and then practiced to become a culturally intelligent leader.
The most important aspect covered within this book is that cultural intelligence is both a strategy and a tool towards cultural competency and proficiency.
This book outlines the importance of understanding culture and its impact on organizations, the strategic value of cultural intelligence, and the significance of integrating and practicing cultural intelligence in everyday business life.
When all these aspects are properly integrated and applied in the leadership and management process, organizations are more innovative and adaptable to respond to cultural changes.
Information
Format: Paperback / softback
Pages: 204 pages
Publisher: Business Expert Press
Publication Date: 01/11/2010
Category: Business & management
ISBN: 9781606491515
Free Home Delivery
on all orders
Pick up orders
from local bookshops