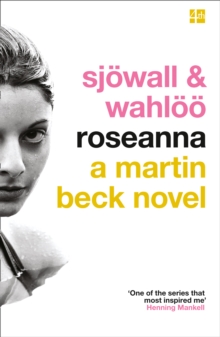 Description
The first book in the classic Martin Beck detective series from the 1960s - the novels that shaped the future of Scandinavian crime writing.Hugely acclaimed, the Martin Beck series were the original Scandinavian crime novels and have inspired the writings of Stieg Larsson, Henning Mankell and Jo Nesbo.Written in the 1960s, 10 books completed in 10 years, they are the work of Maj Sjowall and Per Wahloo - a husband and wife team from Sweden.
They follow the fortunes of the detective Martin Beck, whose enigmatic, taciturn character has inspired countless other policemen in crime fiction; without his creation Ian Rankin's John Rebus or Henning Mankell's Kurt Wallander may never have been conceived.
The novels can be read separately, but are best read in chronological order, so the reader can follow the characters' development and get drawn into the series as a whole.`Roseanna' begins on a July afternoon, the body of a young woman is dredged from Sweden's beautiful Lake Vattern.
Three months later, all that Police Inspector Martin Beck knows is that her name is Roseanna, that she came from Lincoln, Nebraska, and that she could have been strangled by any one of eighty-five people.With its authentically rendered settings and vividly realized characters, and its command over the intricately woven details of police detection, `Roseanna' is a masterpiece of suspense and sadness.
Information
Format: Paperback
Pages: 288 pages
Publisher: HarperCollins Publishers
Publication Date: 01/06/2011
Category: Crime & mystery
ISBN: 9780007439119
Other Formats
EPUB from £3.74
CD-Audio from £7.79
Free Home Delivery
on all orders
Pick up orders
from local bookshops
Reviews
Showing 1 - 3 of 3 reviews.
Review by AHS-Wolfy
16/06/2015
The Göta Canal needs dredging as it's becoming a bit of a slog for the work and pleasure boats to pass through. When a dead body of a young woman surfaces the police think they may have caught a break as the corpse is reasonably fresh and has probably only been there a few days. Hoping to discover her identity quickly they are soon disappointed when she does not match the description of any missing person and so begins a case of dogged investigation to discover who she was before they can even think about putting together a list of potential suspects nevermind actually solving the case. Written in 1965 the only thing that really dates this book is the technological aspect or more specifically, the lack thereof. Every step of the investigation takes time. Whether it is in dealing with other authorities in Sweden, or especially so when potential leads head out to other European countries and even America the feeling of time passing is very evident and the chances of catching the killer grow smaller with each passing chapter. This is an extremely good police procedural and starter of a ten book series with a very dogged and sombre lead detective in Martin Beck. Inspiration for the series is said to come from the likes of <i>Ed McBain</i> and <i>Edgar Allan Poe</i> but the husband &amp; wife team have provided the groundwork for many a Scandinavian crime writer since. I doubt that fans of <i>Henning Mankell</i> or <i>Arnaldur Indriðason</i> wouldn't fail to recognise elements in this book. A good starter and certainly a series I will want to continue
Review by Eyejaybee
16/06/2015
Over recent years Scandinavian crime novels have come into vogue, though I have struggled with this genre. Indeed, despite the great plaudits lauded on the likes of Steig Larsson and Jo Nesbo, I had never managed to summon the strength of spirit to finish one, and was starting to think that I could understand why Sweden has such a high suicide rate.This book was something entirely different. Written in the 1960s this was the first in a series that husband and wife team Sjowall and Wahloo wrote, each featuring Inspector Martin Beck. Indeed, the series was very closely planned in advance - ten novels each of thirty chapters, which, when read in sequence, would constitute a single overarching novel. They stuck to that plan, with the final novel "The Terrorists" being published inj 1975 shortly before Per Wahloo's death from cancer.Throughout the series the authors were eager to focus on the necessity of close teamwork within the police as they investigate any significant crime, and while the principal protagonist is Inspector Martin Beck he is dependent upon the extensive contributions of his colleagues. This is certainly the case in Roseanna, the first novel in the sequence.The novel opens with a dredger at work on one of Sweden's principal canals. As the workman struggle to keep the waterway sufficiently clear they discover the body of a young woman. The pathologists' examination suggest that the body had been in the water for about a week, and that the victim was in her mid twenties. There are no other indications of her identity, and the police have to work entirely from scratch.Sjowall and Wahloo give a fascinating insioght into the workings of the police system at a time before faxes, computers or mobile telephones, and while procedure is kept to the fore the novel never drags. I shall certainly be reading the rest of the series!
Review by quiBee
27/01/2016
This is the first book in a series by by Sjöwall and Wahlöö about a Swedish detective called Martin Beck, who looks into the murder of a young woman who is dredged out of a canal. The book was written back in the 60s, so doesn't rely on all the modern techniques we've become so used to on television.<br/>It follow the investigation step by step and seems to be a very realistic look at a very determined man who doesn't like to leave things lie. <br/>Not a bad read.
Also in the A Martin Beck Novel series