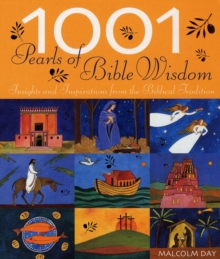 1001 Pearls of Bible Wisdom
Paperback / softback
Description
"1001 Pearls of Bible Wisdom" is an inspiring collection of the most enlightening, uplifting and poetic extracts from the Bible as well as later quotations from the Christian tradition that offer a thoughtful counterpoint.
This book is divided into universally relevant themes such as truth, love, humility and forgiveness, for easy reference in any situation.
The 'pearls' of wisdom are accompanied by lucid explanations of historical context, which illuminate key biblical moments such as the Nativity, the Last Supper and the Crucifixion.
Religious beliefs aside, everyone can benefit from these profound insights, which address all aspects of life - truth and divinity, how to behave toward others, the wonders of the spirit, comfort in times of darkness, and much else besides.
This is a book to turn to for guidance, comfort and inspiration, as well as providing the perfect companion for anyone who finds solace in thoughts inspired by faith.
Free Home Delivery
on all orders
Pick up orders
from local bookshops