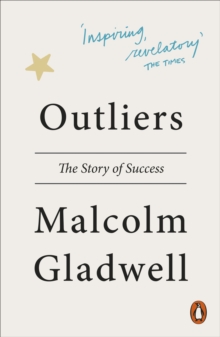 Outliers : The Story of Success
Paperback
Description
Why do some people achieve so much more than others?
Can they lie so far out of the ordinary?In this provocative and inspiring book, Malcolm Gladwell looks at everyone from rock stars to professional athletes, software billionaires to scientific geniuses, to show that the story of success is far more surprising, and far more fascinating, than we could ever have imagined.He reveals that it's as much about where we're from and what we do, as who we are - and that no one, not even a genius, ever makes it alone.
Outliers will change the way you think about your own life story, and about what makes us all unique.'Gladwell is not only a brilliant storyteller; he can see what those stories tell us, the lessons they contain' Guardian'Malcolm Gladwell is a global phenomenon ... he has a genius for making everything he writes seem like an impossible adventure' Observer'He is the best kind of writer - the kind who makes you feel like you're a genius, rather than he's a genius' The Times
Free Home Delivery
on all orders
Pick up orders
from local bookshops
Reviews
Showing 1 - 5 of 6 reviews.
Previous | Next
Review by soylentgreen23
16/06/2015
'The Tipping Point' and 'Blink' are both marvellous; however, I've spent the last three years working as a teacher, and although both books were illuminating they weren't especially directed at me. 'Outliers', a book about what makes some people successful and others not, was just the book I've been waiting for. I devoured it in a day and a half, and I know that I'll return to it many times in the future, because it's literally packed with incredible information and world-changing ideas (not necessarily Gladwell's own, mind you - and that's an important caveat. Gladwell is a very skilled disseminator of information to the public, and without him these ideas might not get the wide readership they deserve. However, the credit for the content of this book really belongs to the originators of the ideas themselves, and thankfully Gladwell includes pages upon pages at the end of detailed notes so that you can, if you wish, look up the originals).
Review by rediabo
16/06/2015
A great book by Malcolm Gladwell, can be a bit controversial, but he doesn't asks to belive him, just to "listen" him. Makes a great read. I can't recomend it more, but be carefull isn't a self help book, it's a book about success and how a combination of the right factors can make a person a successful story.
Review by everfresh1
16/06/2015
Great writing style. Very interesting examples. It's just that the main themes that those examples prove are quite trivial. The prerequisites of real success are abilities, hard work and - very importantly - luck. The cultural heritage plays really important role. There is nothing new in those statements. Still, the examples used by the author are quite striking.
Review by Pondlife
16/06/2015
I enjoyed this book more than The Tipping Point. It contains some thought-provoking observations, backed up by statistics, like: the importance of the year and month when someone is born, why intelligence is not the sole predictor of success, and that it takes about ten thousand hours of practice to become an expert in any field.
Review by Shimmin
16/06/2015
An interesting book that's both good and bad. Good because it's interesting to see another take on "genius", emphasising the importance of opportunity, preparation and hard work in achieving much in any field. Bad because its style fell awkwardly between pop-science vagueness and actual scholarship, frequently making substantial claims but neither referencing them properly, nor providing solid reasoning. In several cases logical fallacies seemed to loom, and it's hard to tell whether that affects the case itself, or is simply the way Gladwell chose to present matters. For example, the discussion of successful Jewish lawyers presents a final example as though it's a valid proof, but the spectre of the Texas Sharpshooter looms large. Elsewhere he makes unclear and largely unreferenced claims about Chinese aptitude for mathematics and the relative laziness of peasants across cultures, and only admits in passing that the most likely disproof available has not been studied. There were loads of questions I'd have liked answered but wasn't given the tools to look into. It's also very American, and I wonder how far he was able to shake that cultural view in doing his research. Nevertheless, worth a look.