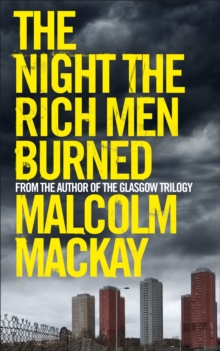 The Night the Rich Men Burned
Hardback
Description
There's nothing so terrifying as money. . . Two friends, Alex Glass and Oliver Peterkinney, look for work and for escape from their lives spent growing up on Glasgow's most desperate fringes.
Soon they will become involved in one of the city's darkest and most dangerous trades.
But while one rises quickly up the ranks, the other will fall prey to the industry's addictive lifestyle and ever-spiralling debts.
Meanwhile, the three most powerful rivals in the business - Marty Jones, ruthless pimp; Potty Cruickshank, member of the old guard; and Billy Patterson, brutal newcomer - vie for prominence. And now Peterkinney, young and darkly ambitious, is beginning to make himself known . . . Before long, violence will spill out onto the streets, as those at the top make deadly attempts to out-manoeuvre one another for a bigger share of the spoils.
Peterkinney and Glass will find themselves at the very centre of this war; and as the pressure builds, each will find their actions - and inactions - coming back to haunt them.
But it is those they love who will suffer most . . . From the award-winning author of the Glasgow Trilogy, The Night the Rich Men Burned is a novel for our times, and Malcolm Mackay's most ambitious work to date.
Information
Format: Hardback
Pages: 320 pages
Publisher: Pan Macmillan
Publication Date: 14/08/2014
Category: Crime & mystery
ISBN: 9781447264378
Other Formats
Paperback from £7.09
EPUB from £3.59
Free Home Delivery
on all orders
Pick up orders
from local bookshops
Reviews
Showing 1 - 1 of 1 reviews.
Review by atticusfinch1048
16/06/2015
The Night The Rich Men Burned – Brilliant Scottish thriller writer Malcolm Mackay has written a brilliant new novel based in the deep dark underbelly of Glasgow, The Night The Rich Men Burned. This book was written with ambition to be something different than the usual police procedural thriller narrated so that we see the brutality of the underworld and it delivers on all levels.Oliver Peterkinney and Alex Glass are two teenage friends and have been for years, they are unemployed and dreaming of just having money in their pockets. Oliver is the pragmatic thinker who likes to way his options up and then there is Alex with head full of magic beans and dreams.Marty Jones is a pimp and debt collector who uses young lads to do his dirty work, pays them a little but they get to go to parties with ladies who give favours out. Marty hires Alex and Oliver to do a job on a collector who has been skimming him. Somehow they manage the job but not without a few cock-ups. Marty can see the potential in Oliver and well Alex is just a mouthy teen with cotton wool for brains. While Oliver goes from strength to strength in the underbelly slowly making a reputation for himself, his friend Alex is in love but in a downward spiral. One gets the jobs the other well gets nothing but love and debts, where the interest rate is out of control and repayment is expected or there could be a whole load of trouble.While Oliver is making his way and money in the underworld making the most of the weaknesses of Marty and other underworld figures such as Potty Cruickshank, he is young and striving getting a reputation for getting the job done. Like all things he builds up enemies in the underworld who would like to see Oliver cut down to size and would even pay to see him out of the business.Alex is in a downward spiral in a real crash and burn the drink and drugs are a large part of his life, as is being ignored by those underworld bosses who will not employ him. He is in love with Ella who has to work just to make the money Alex spends, she is good for him and she does love him.Oliver and Alex even though estranged will cross paths in the crosshairs of an underworld battle to sort out who the king or kings of Glasgow will be. Someone will be the winner in the new underworld and there is little the police can do other than investigate the crumbs that are left.This is a fantastically well written thriller that pulls no punches and at the same time does not glamorise the underworld. It is hard hitting unglamorous account of Glasgow's underbelly and how ambitious you may be you have to have the balls to live amongst them, just don't be surprise when they come to castrate you.This is a brilliant thriller which is dark and brutal, with an authenticity that grips you, the Glasgow accent screaming at you from every page. This is a truly innovative thriller where the tension slowly builds up and is completely compelling. MacKay controls the tension all the way through to deliver the punches with enough power at the right times. Tartan Noir does not get better than The Night The Rich Men Burned.