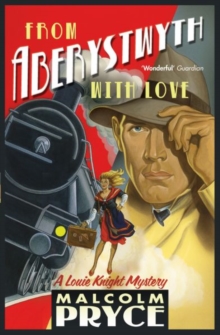 From Aberystwyth with Love
Paperback
Description
It is a sweltering August in Aberystwyth. A man wearing a Soviet museum curator's uniform walks into Louie Knight's office and spins a wild and impossible tale of love, death, madness and betrayal.
Sure, Louie had heard about Hughesovka, the legendary replica of Aberystwyth built in the Ukraine by some crazy nineteenth-century czar.
But he hadn't believed that it really existed until he met Uncle Vanya.
Now the old man's story catapults him into the neon-drenched wilderness of Aberystwyth Prom in search of a girl who mysteriously disappeared thirty years ago.
Soon Louie finds his fate depending on two most unlikely talismans - -a ticket to Hughesovka and a Russian cosmonaut's sock.
Information
Format: Paperback
Pages: 288 pages
Publisher: Bloomsbury Publishing PLC
Publication Date: 05/04/2010
ISBN: 9781408801024
Free Home Delivery
on all orders
Pick up orders
from local bookshops
Reviews
Showing 1 - 3 of 3 reviews.
Review by ten_floors_up
16/06/2015
I had't read any of this series in a while, and it was a great pleasure to return to the altiverse of Aberystwyth Noir. Deftly daft, very funny, inventive, and revelling in its own quirks. Because of these very qualities I full appreciate why this series is a bit of a Marmite read and polarises opinion.
Review by VictorTrevor
16/06/2015
You either like these surreal plots or you don't. I do, and I am impressed at how the author manages to build and sustain a coherent alternative reality.
Review by LindaLiu
27/08/2015
I enjoyed this in the end. I bought the book originally for a friend but decided to keep it for myself in the end, partly out of curiosity and partly because I wasn't sure she would like it. In retrospect, she may well have liked it as it is set in Aberystwyth for the most part, which was why I bought it, as we had both studied there. It is always fun to read about a place that you know, and see it from another perspective. The story is about Louie Knight, a private detective, one of many books by Malcolm Pryce based on this character in and around Aberystwyth. In this book, Louie Knight also takes a short trip by train to Hughsovka, "...the legendary replica of Aberystwyth built in the Ukraine..." via Transylvania. An interesting and funny detour. There is comedy, and drama, and mystery. It took me a while to get into as I had come to the book thinking it might be a bit like Dirk Gently's Holistic Detective Agency - which I loved. It wasn't, although there was a bit of such humour when Louie Knights' assistant, Calamity, talks of "superseding the paradigm" as a method of solving their mystery. It took me a while to get into the book because I had to adjust my preconceptions to it, and also because I was always reading late at night when I was too tired to read. But it got more interesting towards the end as they solved their mystery painstakingly through their encounters with the colourful characters of Aberystwyth and on their trip to Hughsovka. I liked that themystery was solved, but some matters were deliberately left unresolved. A bittersweet ending. Not bad at all. I might read the other books in the series.