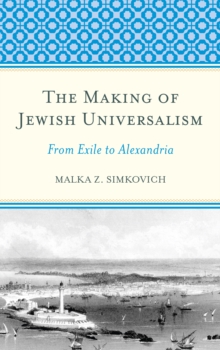 The Making of Jewish Universalism : From Exile to Alexandria
Hardback
Description
This book explores two kinds of universalist thought that circulated among Jews in the Greco-Roman world.
The first, which is founded on the idea that all people may worship the One True God in an engaged and sustained manner, originates in biblical prophetic literature.
The second, which underscores a common ethic that all people share, arose in the second century bce.
This study offers one definition of Jewish universalism that applies to both of these types of universalist thought: universalist literature presumes that all people, regardless of religion and ethnicity, have access to a relationship with the Israelite God and the benefits promised to those loyal to this God, without demanding that they participate in the Israelite community as a Jew.
This book opens with an exploration of four types of relationships between Israelites and non-Israelites in biblical prophetic literature: Israel as Subjugators, Israel as Standard-Bearers, Naturalized Nations, and Universalized Worship. In all of these relationships, the foreign nations will acknowledge the One True God, but it is only the Universalized Worship model that offers a truly universalist vision of the end-time.
The second section of this book examines how these four relationship models are expressed in Second Temple literature, and the third section studies late Second Temple texts that employ a second kind of universalist thought that emphasizes ethical behavior.
This book closes with the suggestion that Ethical Universalist ideas expressed in late Second Temple texts reflect exposure to Stoic thinkers who were developing universalist ideas in the second century BCE.
Information
Format: Hardback
Pages: 216 pages, 17 Tables, unspecified
Publisher: Lexington Books
Publication Date: 12/12/2016
Category: Judaism
ISBN: 9781498542425
Free Home Delivery
on all orders
Pick up orders
from local bookshops