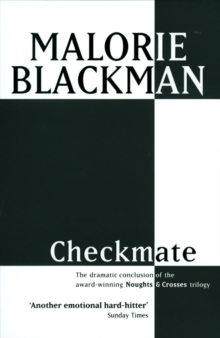 Description
Can the future ever erase the past? Rose has a Cross mother and a nought father in a society where the pale-skinned noughts are treated as inferiors and those with dual heritage face a life-long battle against deep-rooted prejudices.
Sephy, her mother, has told Rose virtually nothing about her father, but as Rose grows into a young adult, she unexpectedly discovers the truth about her parentage and becomes determined to find out more.
But her father's family has a complicated history - one tied up with the fight for equality for the nought population. And as Rose takes her first steps away from Sephy and into this world, she finds herself drawn inexorably into more and more danger.
Suddenly it's a game of very high stakes that can only have one winner ...The powerful third story in the Noughts & Crosses sequence.
Information
Format: Paperback
Pages: 528 pages
Publisher: Random House Children's Publishers UK
Publication Date: 22/08/2006
Category: General
ISBN: 9780552551946
Other Formats
Paperback from £7.09
EPUB from £4.99
Mixed media product from £10.14
Free Home Delivery
on all orders
Pick up orders
from local bookshops
Reviews
Showing 1 - 5 of 5 reviews.
Review by brokenangelkisses
16/06/2015
After a predictable prologue to reveal a key piece of information, the opening chapter is stunning in its understated approach to horror: Callie Rose, a mixed race child in a racially intolerant world, is preparing to commit a shocking act at a young age. After this, the novel shifts continuously between the past and the present, including different viewpoints to allow you to witness over time the fragmentation of Callie's relationship with Sephy, her Cross mother, and her gradual disillusionment with her world. This is a well executed structure, which means that everything is clearly interconnected but Blackman is still able to surprise us along the way.After the depressing feel of 'Knife Edge', the second in the trilogy, this is a novel that has a steep path to climb to find some hope for the future, but Blackman manages, perhaps by sheer dint of emotional weight, to suggest possibilities through the believable but terrifying choices her characters are forced to make. As the resolution to the series, this book does include the requisite happy endings while still leaving some room to guess about romantic possibilities. The author's final pages seem designed to suggest that love is the key to all meaning, but the necessary actions of major characters suggest otherwise, leaving a slightly uncomfortable resolution in which Blackman could be seen to argue for the necessity of violence and betrayal. It is worth reading this novel simply to consider what message Blackman wants to put across and whether or not she succeeds. However, the clear language and engaging characters also make this a compelling read. Overall, this is an emotionally grueling series which sets up key parallels to encourage people to think again about the racially divided world which they inhabit, often thoughtlessly. However, it is not as simple as a treatise on racism; Blackman writes thoughtfully about human relationships and how we treat our families, our friends and our lovers, forcing us to recognise the unintended impacts that we can have on each other.
Review by BridgetsBookNook
16/06/2015
Checkmate (Noughts &amp; Crosses #3) <br/>Read:&amp;nbsp;8/11-8/28/13<br/>&amp;nbsp;<br/>Rating: 4.5/5&amp;nbsp;I don&amp;#039;t know exactly what to say about this book.&amp;nbsp;But, let me start off by saying that the&amp;nbsp;only reason it too me so long to read it was because it was a battle of wills....A part of me&amp;nbsp;wanted&amp;nbsp;to read, the&amp;nbsp;other part of me that&amp;nbsp;didn&amp;#039;t...It wanted to do everything But read...So, that&amp;#039;s what I call a true slump! lol..Now, on to trying to put into words what I feel about this book:<br/>I struggled between giving it a 4 or 5 Star Rating, that&amp;#039;s why it is at the 4.5 Stars.&amp;nbsp;I really did enjoy this book. I can say it was amazing but very intense..just like the first two books.&amp;nbsp;I really did enjoy this one a lot more than I did&amp;nbsp;Knife Edge. I think for me, with&amp;nbsp;Knife Edge, it was a tad bit boring, but yet, I wanted to find out what happened..but I now believe that I should have taken a break between&amp;nbsp;Black &amp; White (Noughts &amp; Crosses)&amp;nbsp;&amp;&amp;nbsp;Knife Edge...Maybe it would not have seemed so bad...I almost gave up on the whole series because of&amp;nbsp;Knife Edge&amp;nbsp;but a part of me wanted to find out what happened with Callie Rose, so I didn&amp;#039;t read for a couple months. Then, I found the&amp;nbsp;Callum&amp;nbsp;e-book. I am so glad I did. That is what got me back on this series.&amp;nbsp;Anyway, back to&amp;nbsp;Checkmate.This book, like I said, was amazing, but it was such an intense read for me. Like the other two, there were parts in the book that made you mad, hurt your feelings, broke your heart, etc. And that is what makes it so hard to read. There are some people that can read all books back to back and be fine with it, but I just can&amp;#039;t do it I realized.&amp;nbsp;But&amp;nbsp;I do think it is&amp;nbsp;one&amp;nbsp;of my favorites this year.&amp;nbsp;I am beyond curious what is going to happen in&amp;nbsp;Double Cross, the final book in this series.I have the book on my shelf, but I am going to try to read another book before reading&amp;nbsp;Double Cross&amp;nbsp;to give myself a break from all of the intensity. I can say that it will be hard for me not to pick up the book and read it now. But I know if I try to do it now, I won&amp;#039;t be able to finish it or get through it right now. For me, this is a book you have to prepare yourself for and be in a place you can handle all the things that go on.I think this books kind of falls into the Dystopian Genre....And normally I am not really into dystopian books...But because of the topic of this series, it makes it more interesting for me because I had always thought about "What would happen in this society and how would people feel if the rolls were reversed?" And Pow! Here it is! lol...I have seen people post/comment about her being racist solely on the topic of this book..well, I don&amp;#039;t know her personally so I cant say whether she is or not...But I can say that I don&amp;#039;t see that as being the case with this book...I see this series for what it is...A Roll Reversal. So, anyone who is considering reading this book...Regardless of your race, creed, gender, etc do not go into it with race in mind..Go into it just for what it is...What I mentioned before "Roll Reversal"...If things were turned around, how would things be handled? How would people feel? React? etcBut, I have said too much so I will end here...Thanks for reading all of this. :-)
Review by crashmyparty
16/06/2015
After the disappointment of Knife Edge, the previous book in this trilogy, I wasn't sure which way this one was going to go. After spending the afternoon racing through it, I am pleased to announce that Checkmate is as good as Noughts and Crosses which I adored. YAY!While Knife Edge seemed to be lacking the edginess and the intensity of plot I found in Noughts and Crosses, Checkmate did not have that problem. It was angsty, it was powerful, it was emotional. The lives of these characters are still not at ease, all of them still fighting with the ghosts of their collective past and poor Callie Rose, dragged into the middle of it all, is just trying to work out who she is and where she belongs.Sephy has changed dramatically since Noughts and Crosses but at times I can see her old self shine through and what's more is that I see her in Callie. The development of mother and daughter was flawless - all their fights, arguments, mistakes on both parts, and in the end their love for each other, tied together by the memory of Callum. Callum, though killed in the first book, is an overhanging presence in all their lives, even all those years later. [And I always knew that letter was a fake!]Meggie has changed dramatically in this book. Her vindictiveness was quite surprising and I would have thought she would have treated Sephy better. I also don't know how they managed to live in the same house for more than ten years hardly speaking to one another. I believed Sephy was well within her rights to be angry and upset, and also that Meggie had reason to worry - but of course went about it all the wrong way. The problem with these characters is that they've all been broken and hurt so many times they don't know who to trust. I guess this is why the ending gave me so much to be hopeful for. I found myself not caring which boys or men were in either of Callie or Sephy's lives, but mainly caring about their relationship with each other. Makes you wish they had had that conversation a long time ago.When you care about characters (as I inevitably do) reading a book where they make so much trouble and cause so much pain for each other can be very hard! However, I very much enjoyed this 'conclusion' to the 'trilogy' (though I have another book??) and I don't mind about the extra book as again I find myself unable to let go.
Review by OBridget1
16/06/2015
Checkmate (Noughts &amp; Crosses #3) <br/>Read:&amp;nbsp;8/11-8/28/13<br/>&amp;nbsp;<br/>Rating: 4.5/5&amp;nbsp;I don&amp;#039;t know exactly what to say about this book.&amp;nbsp;But, let me start off by saying that the&amp;nbsp;only reason it too me so long to read it was because it was a battle of wills....A part of me&amp;nbsp;wanted&amp;nbsp;to read, the&amp;nbsp;other part of me that&amp;nbsp;didn&amp;#039;t...It wanted to do everything But read...So, that&amp;#039;s what I call a true slump! lol..Now, on to trying to put into words what I feel about this book:<br/>I struggled between giving it a 4 or 5 Star Rating, that&amp;#039;s why it is at the 4.5 Stars.&amp;nbsp;I really did enjoy this book. I can say it was amazing but very intense..just like the first two books.&amp;nbsp;I really did enjoy this one a lot more than I did&amp;nbsp;Knife Edge. I think for me, with&amp;nbsp;Knife Edge, it was a tad bit boring, but yet, I wanted to find out what happened..but I now believe that I should have taken a break between&amp;nbsp;Black &amp; White (Noughts &amp; Crosses)&amp;nbsp;&amp;&amp;nbsp;Knife Edge...Maybe it would not have seemed so bad...I almost gave up on the whole series because of&amp;nbsp;Knife Edge&amp;nbsp;but a part of me wanted to find out what happened with Callie Rose, so I didn&amp;#039;t read for a couple months. Then, I found the&amp;nbsp;Callum&amp;nbsp;e-book. I am so glad I did. That is what got me back on this series.&amp;nbsp;Anyway, back to&amp;nbsp;Checkmate.This book, like I said, was amazing, but it was such an intense read for me. Like the other two, there were parts in the book that made you mad, hurt your feelings, broke your heart, etc. And that is what makes it so hard to read. There are some people that can read all books back to back and be fine with it, but I just can&amp;#039;t do it I realized.&amp;nbsp;But&amp;nbsp;I do think it is&amp;nbsp;one&amp;nbsp;of my favorites this year.&amp;nbsp;I am beyond curious what is going to happen in&amp;nbsp;Double Cross, the final book in this series.I have the book on my shelf, but I am going to try to read another book before reading&amp;nbsp;Double Cross&amp;nbsp;to give myself a break from all of the intensity. I can say that it will be hard for me not to pick up the book and read it now. But I know if I try to do it now, I won&amp;#039;t be able to finish it or get through it right now. For me, this is a book you have to prepare yourself for and be in a place you can handle all the things that go on.I think this books kind of falls into the Dystopian Genre....And normally I am not really into dystopian books...But because of the topic of this series, it makes it more interesting for me because I had always thought about "What would happen in this society and how would people feel if the rolls were reversed?" And Pow! Here it is! lol...I have seen people post/comment about her being racist solely on the topic of this book..well, I don&amp;#039;t know her personally so I cant say whether she is or not...But I can say that I don&amp;#039;t see that as being the case with this book...I see this series for what it is...A Roll Reversal. So, anyone who is considering reading this book...Regardless of your race, creed, gender, etc do not go into it with race in mind..Go into it just for what it is...What I mentioned before "Roll Reversal"...If things were turned around, how would things be handled? How would people feel? React? etcBut, I have said too much so I will end here...Thanks for reading all of this. :-)
Review by MsBridgetReads
16/06/2015
Checkmate (Noughts &amp; Crosses #3) <br/>Read:&amp;nbsp;8/11-8/28/13<br/>&amp;nbsp;<br/>Rating: 4.5/5&amp;nbsp;I don&amp;#039;t know exactly what to say about this book.&amp;nbsp;But, let me start off by saying that the&amp;nbsp;only reason it too me so long to read it was because it was a battle of wills....A part of me&amp;nbsp;wanted&amp;nbsp;to read, the&amp;nbsp;other part of me that&amp;nbsp;didn&amp;#039;t...It wanted to do everything But read...So, that&amp;#039;s what I call a true slump! lol..Now, on to trying to put into words what I feel about this book:<br/>I struggled between giving it a 4 or 5 Star Rating, that&amp;#039;s why it is at the 4.5 Stars.&amp;nbsp;I really did enjoy this book. I can say it was amazing but very intense..just like the first two books.&amp;nbsp;I really did enjoy this one a lot more than I did&amp;nbsp;Knife Edge. I think for me, with&amp;nbsp;Knife Edge, it was a tad bit boring, but yet, I wanted to find out what happened..but I now believe that I should have taken a break between&amp;nbsp;Black &amp; White (Noughts &amp; Crosses)&amp;nbsp;&amp;&amp;nbsp;Knife Edge...Maybe it would not have seemed so bad...I almost gave up on the whole series because of&amp;nbsp;Knife Edge&amp;nbsp;but a part of me wanted to find out what happened with Callie Rose, so I didn&amp;#039;t read for a couple months. Then, I found the&amp;nbsp;Callum&amp;nbsp;e-book. I am so glad I did. That is what got me back on this series.&amp;nbsp;Anyway, back to&amp;nbsp;Checkmate.This book, like I said, was amazing, but it was such an intense read for me. Like the other two, there were parts in the book that made you mad, hurt your feelings, broke your heart, etc. And that is what makes it so hard to read. There are some people that can read all books back to back and be fine with it, but I just can&amp;#039;t do it I realized.&amp;nbsp;But&amp;nbsp;I do think it is&amp;nbsp;one&amp;nbsp;of my favorites this year.&amp;nbsp;I am beyond curious what is going to happen in&amp;nbsp;Double Cross, the final book in this series.I have the book on my shelf, but I am going to try to read another book before reading&amp;nbsp;Double Cross&amp;nbsp;to give myself a break from all of the intensity. I can say that it will be hard for me not to pick up the book and read it now. But I know if I try to do it now, I won&amp;#039;t be able to finish it or get through it right now. For me, this is a book you have to prepare yourself for and be in a place you can handle all the things that go on.I think this books kind of falls into the Dystopian Genre....And normally I am not really into dystopian books...But because of the topic of this series, it makes it more interesting for me because I had always thought about "What would happen in this society and how would people feel if the rolls were reversed?" And Pow! Here it is! lol...I have seen people post/comment about her being racist solely on the topic of this book..well, I don&amp;#039;t know her personally so I cant say whether she is or not...But I can say that I don&amp;#039;t see that as being the case with this book...I see this series for what it is...A Roll Reversal. So, anyone who is considering reading this book...Regardless of your race, creed, gender, etc do not go into it with race in mind..Go into it just for what it is...What I mentioned before "Roll Reversal"...If things were turned around, how would things be handled? How would people feel? React? etcBut, I have said too much so I will end here...Thanks for reading all of this. :-)