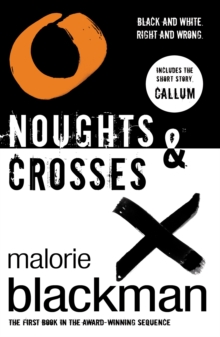 Noughts & Crosses
Paperback
Description
Sephy is a Cross - a member of the dark-skinned ruling class.
Callum is a nought - a 'colourless' member of the underclass who were once slaves to the Crosses.
The two have been friends since early childhood. But that's as far as it can go. Against a background of prejudice, distrust and mounting terrorist violence, a romance builds between Sephy and Callum - a romance that is to lead both of them into terrible danger ...
Information
Format: Paperback
Pages: 512 pages
Publisher: Random House Children's Publishers UK
Publication Date: 08/08/2006
Category: General
ISBN: 9780552555708
Other Formats
Paperback from £6.69
Mixed media product from £8.93
EPUB from £1.49
Quantity pack from £134.00
Free Home Delivery
on all orders
Pick up orders
from local bookshops
Reviews
Showing 1 - 5 of 8 reviews.
Previous | Next
Review by gogglemiss
16/06/2015
This was a very popular book at my library, as I had to wait ages for my turn to read it, and it was well worth the wait. It's a sad story about two disintergration of two familiies who destroy themselves through racial prejudice. Callum and Stephy were the forbidden sweethearts. Each family had their deep rooted problems. Written in the first person, alternately by Callum and Sephy, this was an absorbing read and memorable. 
Review by Alex123456789
16/06/2015
I think this book is excellent because it reminds me of the slave trade but in noughts and crosses it's the opposite way round so the crosses are in control and the noughts are second rate basically. So it give another side to realite.I think this is a 5 star rating book. AWESOME!!! :)
Review by lizw9
16/06/2015
Sephy Hadley, daughter of one of the most powerful politicians in the land, is a Cross. Callum McGregor, a naught, is a second class citizen in a world ruled by Crosses. The two grow up together and remain friends, even after Mrs. McGregor is unjustly fired from her job as a maid for the Hadleys.Told from the alternating viewpoints of Callum and Sephy, what's different about these black and white star-crossed lovers in this nameless dystopian world is that despite our mind's conditioned expectations, Sephy, the privileged Cross, is not white. It is Callum, the oppressed nought, who is. Wait! Let me get this straight, I would say to myself at the beginning, as images of poor, oppressed blacks and wealthy, healthy whites kept tripping up my brain. And this is precisely why the UK author's YA thriller novel works so well; she turns all our expectations, everything we thought we knew about history and the world, and turns it upside down, throwing up a mirror at our unjust world.In Noughts and Crosses, slavery has ended, but conditions for the noughts are still deplorable, something like the American South of the 1960s. Noughts and Crosses attend segregated schools and many noughts, like Callum's parents, cannot afford to send all their children to school. When Mrs. Hadley fires Meggie McGregor over a misunderstanding, the family is destitute. Jude, Callum's older brother, is taken out of school and blames the Hadleys, and all Crosses – "daggers – for the injustices he and his family are forced to endure. Callum, on the other hand, has been more fortunate, one of the few noughts to win a coveted scholarship to Sephy's exclusive private school.But all is not well. A mob of students demonstrates outside the school on Callum's first day at Heathcroft and Sephy and Callum end up on the news, with Sephy inadvertently breaking her friend's heart by shouting out to the crowd, "Stop it! You're all behaving like animals. Worse than animals – like blankers!" "Blankers", of course, is Blackman's fictional derogatory term for whites, who are perceived as blanks, zeros, nothings, "a waste of space".Things keep going downhill for the two in this thought-provoking coming-of-age tale as Sephy insists on showing the world that she is not afraid to be friends with a nought. In so doing, not only does she make things harder for herself and Callum, but she is ostracized and beaten up in the girls' toilets by some older girls for being a "blanker lover". "[Noughts have] blank, white faces with not a hint of colour in them. Blank minds which can't hold a single original thought. That's why they serve us and not the other way around", one of the bully girls spits out.The book barely alludes to race -- and never to religion or ethnicity -- but Malorie Blackman cleverly plays with our preconceptions. For instance,noughts want to get tans so their skin can look more like the rich mahoganied complexion of Crosses. In one scene, a nought girl cuts herself and is forced to wear a brown plaster on her forehead because pink ones don't exist. Says Blackman, in an interview with The Guardian,"If you're the majority you don't necessarily see it because you don't need to see it and that's what I wanted to explore by turning the tables."The terrorist Liberation Militia seems the only way out of poverty and self-hatred to many noughts, Callum's father and older brother Jude among them. When a massive bomb explodes in a nearby shopping centre, Jude and Ryan McGregor are accused. Callum is expelled from school for being the son of a suspected terrorist. Jude disappears, and Ryan McGregor is killed by an electric fence, trying to escape prison. In spite of their strong bond, the unjust world adults have created is conspiring to keep Sephy and Callum apart.Upon his return from his aunt's house where he and his mother have been hiding out, Callum learns that Sephy has left him a letter asking him to escape the country with her. But he is too late; Sephy has left town for boarding school.Broken at the death of his father and disillusioned with the world, Callum joins the Liberation Militia, hardening his heart to Sephy and learning to hate all Crosses. Though she believes Callum chose not to run away with her because he didn't love her, Sephy joins a pro-equality group in the hopes of building a more just world.The two do not meet again until Sephy is kidnapped two years later by the LM. Sephy is now 17, Callum 19. For those who have never read the book, I won't spoil the ending.As an English teacher and high school librarian I have booktalked this book and recommended it to many a teen -- and even to adults. Reading teens can't get enough of the Noughts and Crosses series, of which there are four titles, all with black and white covers and clever titles like "Checkmate" and "Double Cross". The first title is on the reading list for 14 to 16-year-olds in UK high schools.Malorie Blackman, who herself is black and for years resisted writing about racism, says no US publisher would touch her book (it was published in the UK shortly after 9/11). "I can understand [why]", she says. "It's about terrorist activity - Callum becomes a terrorist because it's the only action open to him."While the plot is at times a little too abrupt and the characters of Sephy and Callum are not as well-developed as they could be, Blackman has created sympathetic characters and a good voice for the two protagonists. Blackman's real strength as a YA novelist is in creating an engrossing alternate reality and in weaving a gripping tale. This was my second time reading the book, and still I stayed up past 2 am to get to the end. A highly readable and well-told story that is disturbingly realistic.
Review by ritakhavich
16/06/2015
One of the greatest and most difficult books I ever read. I stumbled upon it accidentally but never regretted it since, going on to read the whole thought-provoking series. Blackman makes you think about your life and your world through her characters - ones you can't help but fall in love with. I highly recommend this book to everyone! (Not for young children)
Review by BridgetsBookNook
16/06/2015
Well, I don't exactly know what can be said about this book that hasn't already been said. <br/><br/>I did <b>really</b> enjoy the book. I think the only reason I didn't finish it sooner was because I had other things I had to do and sleep! :o)<br/><br/>I loved the characters, with the exception of a few. The ending was heart wrenching and I wish it could have ended another way. <br/><br/>I enjoyed the story being told in a different point of view when it came to the way things are between the races. It's something I'm sure has been thought about by people throughout history, and someone was bold enough to put it to paper! <br/><br/>The only reason I gave it a <b>4/5</b> and not a full <b>5/5</b> was that I did get bored with it a few times and not totally sure why. But it was still wonderful none-the-less. :-)