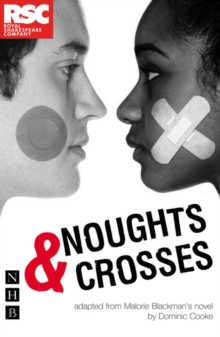 Noughts & Crosses
Paperback
Description
Adaptation of much-love thriller about racism by award-winning children's author.
Information
Format: Paperback
Pages: 96 pages
Publisher: Nick Hern Books
Publication Date: 03/12/2007
Category: Plays, playscripts
ISBN: 9781854599391
Other Formats
Paperback from £7.09
Mixed media product from £8.93
EPUB from £1.49
Quantity pack from £134.00
Free Home Delivery
on all orders
Pick up orders
from local bookshops
Reviews
Showing 1 - 3 of 3 reviews.
Review by pinkmouse
16/06/2015
Really good and exciting. I also liked the way it was set out where you got snippets of each of the main character's lives, it was good for interpretting what was happening. Very sad and the only way i would criticise it would be to say it was too simple and easy a read, i would have liked a more vivid portrayal of both characters and emotions. Overall a good read though and i look forward to reading the others in the series.
Review by jayne_charles
16/06/2015
A book for teenagers, but definitely older teenagers because some of the events are truly shocking. The story turns racism on its head, creates a world where the black population holds the upper hand in society, and white people are known, derogatorily,as 'blankers'. Whether this word, within the confines of a book, can gain the same blow-to-the-stomach impact as the N-word is doubtful, but it is clear where the author is coming from. The book highlights things that are not often appreciated (the colour of sticking plasters, the glossing over of achievements by black people in history), and the author uses her fictional world to subtly point out inequalities we may not realise are there. If I have a criticism, it's the whole 'noughts and crosses' thing: it seemed to serve no purpose other than to provide a title of the novel, and a black and white cover.
Review by crashmyparty
16/06/2015
I first read Noughts & Crosses around five years ago and gave it an instant five star rating. On reading it again, I saw why it had so appealed to my fifteen year old self and also that it still appealed to me now at almost-twenty. But I still felt the need to drop it from a five star rating to a four.Noughts & Crosses is the powerful moving tale of a world divided into two: the pale skinned noughts, like Callum, who are considered second class citizens, and the dark skinned Crosses, like Sephy, who are the elite and privileged. The two divisions are never meant to collide. Sephy and Callum did. Friends since childhood, as they grow older their worlds begin to change and it is not so easy to be together, as friends or as anything more. Sephy is naive and doesn't understand why the world has to be this way. Callum is learning the hard way what it means to be a nought in a Cross world.I enjoyed the story as much as I did the first time, couldn't put it down for the day and a bit it took me to finish, and again I cried buckets at the end. But this time I was more aware of little things that annoyed me about the writing, such as the immaturity of some of the narration and the overuse of exclamation marks. I tried to tell myself this is just how people of that age speak (Sephy being fourteen for most of the novel and Callum sixteen) and there was still a clear difference between the two narrative voices, but it still got under my skin a little. Maybe I'm just being picky.Overall, I was still satisfied with the book as I had loved it when I first read it. I was still moved and angry and sad and full of emotion when I read it. The development of the two main characters and their friendship was beautifully done. I felt for them. How hard it must be, when something was always seemed right to you only to be told that it's wrong. The ending was brave! But at the same time it seemed inevitable, for the world that was described. I'm not ready to let go yet, so I'm glad I have the next three books here beside me!