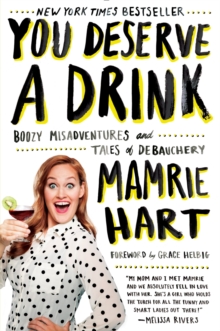 You Deserve A Drink : Boozy Misadventures and Tales of Debauchery
Paperback
Description
A NEW YORK TIMES BESTSELLER - "Hart is a pull-no-punches comedian with a talent for self-deprecation in the guise of self-aggrandizement, a winning formula." -The New York Times Mamrie Hart is a drinking star with a Youtube problem.
With over a million subscribers to her cult-hit video series "You Deserve a Drink," Hart has been entertaining viewers with a combination of tasty libations and raunchy puns since 2011.
Hart also co-wrote/co-starred in Dirty Thirty and Camp Takota with Grace Helbig and Hannah Hart.
Finally, Hart has compiled her best drinking stories--and worst hangovers--into one hilarious volume.
From the spring break where she and her girlfriends avoided tan lines by staying at an all-male gay nudist resort, to the bachelorette party where she accidentally hired a sixty-year-old meth head to teach the group pole dancing (not to mention the time she lit herself on fire during a Flaming Lips concert), Hart accompanies each story with an original cocktail recipe, ensuring that You Deserve a Drink is as educational as it is entertaining. With cameos from familiar friends from the YouTube scene and a foreword by Grace Helbig, this glimpse into Hart's life brings warmth and humor to the woman fans know and love. And for readers who haven't met Mamrie yet--take a warm-up shot and break out the cocktail shaker: you're going to need a drink.
Information
Format: Paperback
Pages: 276 pages, 1 Illustrations, unspecified
Publisher: Penguin Putnam Inc
Publication Date: 26/05/2015
Category: Memoirs
ISBN: 9780142181676
Free Home Delivery
on all orders
Pick up orders
from local bookshops
Reviews
Showing 1 - 5 of 9 reviews.
Previous | Next
Review by kaylamcneil
27/08/2015
When my sister introduced me to Mamrie Hart's YouTube channel "You Deserve A Drink (YDAD)" about two years ago I was hooked! I quickly became a fan, watching all of her videos on both her YDAD channel and her second channel, "Mametown". This talented lady wrote and starred in the indie film, "Camp Takota", hosted the travel show Hey USA, performs in comedy shows with her friends Grace Helbig and Hannah Hart (no relation, or is there, we may never know), and has made multiple television appearances in the past year. Her most recent project is her memoir entitled "You Deserve A Drink: Boozy Misadventures and Tales of Debauchery". If you are a fan of Mamrie or have yet to watch her content, by the time you finish this book you will wish she was your best friend. In this memoir, Mamrie walks you through some of the most hilariously absurd moments in her life, never failing to make a pun or pop culture reference along the way. If you have watched her videos, you will know that this is a language she speaks well, unlike French (reference chapter three). Mamrie tells us stories that we haven't heard before, like the story of her first night living in New York City, and the oddly humorous story of the childhood trip that ended up exposing her parents' plans to divorce. While her stories are bold and larger than life, she never leaves her readers feeling disconnected. The book reads like you are talking over drinks. Oh, and the best part, this book has a built in drinking game! Each chapter begins with an original drink recipe that connects to the story, so get your shakers ready! Overall, this is the perfect summer read weather you have knowledge of Mamrie's work or not. It is light and funny, perfect for a day on the beach or a trip to a gay nudist resort! So go pick up the book on May 26th or go to YDADBOOK.com to pre-order your copy. I guarantee that this will be the funniest book you read this year! You will not be disappointed!
Review by pixiestyx77
27/08/2015
I received a free early review copy of You Deserve a Drink.For the most part I really enjoyed the humor and stories of You Deserve a Drink. I have not tried any of the drink recipes yet, but I will at some point. Most sound like drinks I would enjoy, and the ones that I won't like, I'm guessing my husband will. I enjoyed Mamrie's style of storytelling, if you've watched her YouTube show then you know what to expect here. The only thing that made me stop laughing as I read were the stories towards the end of the book that involved driving while high. With the exception of these few stories the rest of the book was very entertaining.
Review by Alliebadger
27/08/2015
You know that best friend where in your relationship, there is no such thing as oversharing (and she can make any terrible story sound hilarious)? That's Mamrie. Her collection of amazing stories is so much fun because of how she tells them - with reckless, loving abandon. There were many points where I laughed out loud. Overall, this is a fun book that makes you want to be best friends with the author (and maybe also take her to an AA meeting). (If you're reading this, Mamrie, please be my friend.)
Review by MsNick
27/08/2015
I'll admit to having never heard of Mamrie Hart before requesting the ARC of her book. I brought YDAD with me on a trip this past week and I lost count of how many times it made me laugh out loud in public. (Yes, I was the crazy lady in the airport/on the plane.) I really got a kick out of this quick, hilarious read.
Review by lessthn3
27/08/2015
There's no doubt about it: Mamrie Hart knows how to tell a story. And bonus: she teaches you how to make some tasty drinks at the same time! There are plenty of hilarious anecdotes in this book to keep anyone entertained, and if you follow Mamrie's drinking game, I imagine it would be even more entertaining! :D