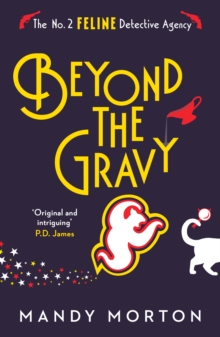 Beyond the Gravy
Paperback / softback
Description
Psychic cat Irene Peggledrip is being visited by a band of malevolent spirits who all claim to be murderers.
Not only is their message disturbing, but they cause chaos with indoor snowstorms, flying books and the untimely demise of a delicious Victoria sponge.
Irene calls in Hettie and Tilly of the No. 2 Feline Detective Agency to help, but they're not sure how far their skills reach into the spirit realm. Meanwhile, Lavender Stamp, the town's bad-tempered postmistress cat, has some good news to deliver to Tilly: she has won a competition to take afternoon tea with renowned mystery writer Agatha Crispy at her Devon home, Furaway House. Will Hettie and Tilly finally lay the ghosts to rest?
Can Molly Bloom's new cafe survive the seance? And will the moving claw give up its secrets before the gravy congeals?
Find out in this latest adventure of our favourite feline sleuths. What people are saying about The No. 2 Feline Detective Agency:'This series is the perfect warm, fluffy cosy mystery read for fans of Agatha Crispy-style mysteries and cat-lovers alike.''True escapism into a world of pies, cakes and cats while somehow smuggling a truer reflection of the real world than much human detective fiction.''A deceptively nasty murder wrapped up in a cardigan, and served by the fire with tea and cake.
A delight from beginning to end.''Hilarious and captivating.''The cat world's answer to the cosy crime novel, with bags of charm and characters you don't want to leave behind.''I love this series and am waiting with a warmed pastry, a hot mug of something, and a crackling fire for the next in the series.'Editorial reviews:'Original and intriguing... a world without people which cat lovers will enter and enjoy.' P.
D. James'I loved it. The whole concept is just so "real"!' Barbara Erskine'Mandy Morton's Feline Detective Agency instigates a new genre, both wonderful and surreal.' Maddy Prior'The world that Morton has created is irresistible.' Publishers Weekly'Witty and smart.
Prepare to be besotted.' M.K. Graff'Mandy Morton's series is both charming and whimsical.' Barry Forshaw'Hettie Bagshot might be a new face at the scene of a crime, but already she could teach most fictional detectives a thing or two.' The Hunts Post'an absolute delight from beginning to end...
Totally original, very different - and I'm in awe of the author's imagination.
Very much recommended.' Being Anne blog
Information
Format: Paperback / softback
Pages: 224 pages
Publisher: Prelude Books
Publication Date: 16/05/2019
Category: Crime & mystery
ISBN: 9781788421003
Also in the The No. 2 Feline Detective Agency series