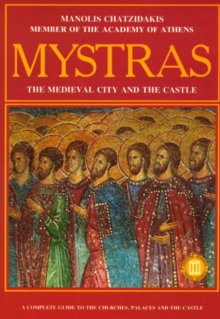 Mystras - The Medieval City and Castle
Paperback / softback
Description
Chatzidakis scrutinizes the first evidence for Mystras, before the Frankish Conquest of 1249; the city's acme, under the Franks (from 1249 to 1262), and subsequently, in the days of the Kantakouzenoi and the Palaiologoi; and again when, as capital of the Despotate of the Morea (from 1348 to 1460), Mystras became "the centre and very soul of the Peloponnese", a city in constant communication, politically and culturally, with the capital of the Byzantine Empire, Constantinople itself. And indeed the rich decoration of Mystras' churches - the Metropolis, the Aphendiko, the Peribleptos, or the Pantanassa, for instance - is a brilliant example of Constantinople's art at its greatest.
Chatzidakis also has a chapter about each of the monuments and its architecture, painting, and sculptured decoration, with notes on the minor chapels.
The Castle, the walls, the palaces, and the houses - the indispensable framework for a better understanding of the art of Byzantine Mystras - are examined in the last part of the book.This new edition retains the author's original text in its original form, comprising a detailed study of the monuments and the city over the centuries.
All that is new is the additions and adjustments made necessary by recent findings, the result of conservation and restoration work on the archaeological site by the Fifth Ephorate of Byzantine Antiquities (Sparta).
Essential additions have also been made to the chapter on the Museum: these are due to the recent new exhibition on display since 2001, and in particular to the conservation and study of the dress of the Byzantine princess.
This edition also has the benefit of new photographs of the site and the monuments.
Information
Format: Paperback / softback
Pages: 128 pages
Publisher: Ekdotike Athenon S.A.
Publication Date: 01/12/2005
ISBN: 9789602130650
Free Home Delivery
on all orders
Pick up orders
from local bookshops