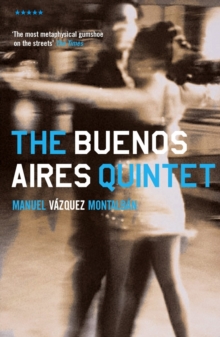 The Buenos Aires Quintet
Paperback
Description
When Pepe Carvalho's uncle asks him to find his son, Ra?l, in Buenos Aires, Pepe is reluctant. All he knows about Argentina is 'tango, Maradona, and the disappeared' and he has no desire to find out more. But family is family and soon Carvalho is in Buenos Aires, getting more caught up in Argentina's troubled past than is good for anybody.
As he gets nearer to finding Raul, he begins to realise the full impact of the traumas caused by a military junta who went so far as to kidnap the children of the political activists they tortured. A few excellent tangos, bottles of Mendoza Cabernet Sauvignon and a sexy semiotician are no compensation for the savage brutality Carvalho experiences in his attempt to come to grips with Argentina's recent history.
Information
Format: Paperback
Pages: 384 pages
Publisher: Profile Books Ltd
Publication Date: 20/01/2005
Category: Crime & mystery
ISBN: 9781852427832
Free Home Delivery
on all orders
Pick up orders
from local bookshops
Reviews
Showing 1 - 1 of 1 reviews.
Review by berthirsch
27/08/2015
The Buenos Aires Quintet by Manuel Vazquez MontalbanA literary suspense novel set in Buenos Aires at the turn of this century. The half-hearted private detective, Pepe Cavalho has agreed to come here from his hometown Barcelona summoned by his distraught uncle whose son Robert has disappeared once again. Pepe is a unique detective, often times more interested in food and women than in the cases he is hired to solve, yet he also has the unique skills of curiosity, doggedness, and a strong distaste for those who dominate and corrupt others.The action revolves around a group that were viewed as subversives by the evil military junta of the late 70's-early 80's. Now 20 years later the dark forces are still active. Roberto Touron, Cavalho's cousin, has returned to Buenos Aires to search for his kidnapped infant daughter and reclaim the scientific work he created on animal husbandry that now promises wealth for the Argentine beef industry. His wife, believed killed as a revolutionary, is now living in the identity of her sister who was actually killed. Alma is now a professor of literature and their daughter reared by an evil military man is now a student in her class. Other characters of interest populate this tale: a bi sexual Jewish tango club owner, motorcyclist gangs hired as thugs by junta survivors, a con man who passes himself off as the illegitimate son of Jorge Luis Borges, rich oligarchs who pull the strings of Buenos Aires commerce, university students and others.All mix the sauce that becomes the action. People are murdered, disappear while others focus their attentions on literature, gourmet cooking and hidden clubs.Cavalho solves the mysteries and struggles to leave Buenos Aires with its romantic pull while wanting to return to his home in Barcelona.This is a good page turner, with literary references, intelligence and allure.
Also by Manuel Vazquez Montalban | View all