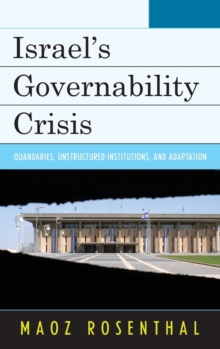 Israel's Governability Crisis : Quandaries, Unstructured Institutions, and Adaptation
Hardback
Description
This book examines the governability crisis faced by Israeli governmental institutions.
For a long period of time, observers of Israel's government have reported the same phenomena: instability in most political positions not allowing for proper policy design, enhanced control of the bureaucracy over the policy making process, and complete uncertainty regarding the implementation of policies by the bureaucracy.
However, while one expects that with such a toxic combination of all the wrong policy making components Israel would collapse, Israel has been able to achieve quite impressive landmarks in its overall performance.
During the first decade of the 21st century, Israel became an OECD member and enjoyed high growth when the world was facing stagnation and economic collapse.
Israel's government, which regularly faces quandaries in a variety of policy fields, is able to initiate large scale policies when needed.
Yet, this same government refrains from initiating large-scale reforms in institutional structures.
Hence, for analysts of political institutions, the Israeli state of affairs is one of choice: while initiating changes to reform and overhaul the Israeli institutional system is possible it is also perilous.
To cope with that duality Israeli political leadership on all sides has developed a variety of mechanisms that allow them to provide the policy output needed so as to maintain the status-quo.
This book examines these mechanisms as they exist in different facets of government work and explains their output and persistence.
Examples include coalitional making and breaking, the ways in which ruling coalitions maneuver in parliament, and policy design and implementation.
The book also explores the problem that exists in Israel's governability: the lack of a strategic high-order far sighted decision making.
Finally, it offers a method of electoral reform that can address both of these systemic maladies.
Information
Format: Hardback
Pages: 162 pages, 17 Tables, unspecified
Publisher: Lexington Books
Publication Date: 22/11/2016
Category: Political ideologies
ISBN: 9781498513418