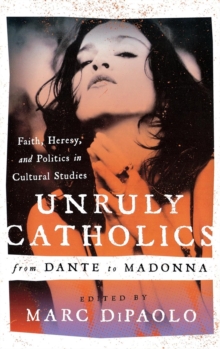 Unruly Catholics from Dante to Madonna : Faith, Heresy, and Politics in Cultural Studies
Hardback
Description
During the Second Vatican Council, the Roman Catholic Church went through a period of liberal reform under the stewardship of Popes John XXIII and Paul VI.
Successive popes sharply reversed course, enforcing conservative ideological values and silencing progressive voices in the Church.
Consequently, those Catholics who had embraced the spirit of Vatican II were left feeling adrift and betrayed.
In Unruly Catholics from Dante to Madonna, scholars of literature, film, religion, history, and sociology delve into this conflict-and historically similar ones-through the examination of narratives by and about rebellious Catholics.
Essays in Unruly Catholics explore how renowned Catholic literary figures Dante Alighieri, Oscar Wilde, Graham Greene, Evelyn Waugh, and Gerard Manley Hopkins dealt with the disparities between their personal beliefs and the Church's official teachings.
Contributors also suggest how controversial entertainers such as Madonna, Kevin Smith, Michael Moore, and Stephen Colbert practice forms of Catholicism perhaps worthy of respect.
Most pointedly, Unruly Catholics addresses the recent sex abuse scandals, considers the possibility that the Church might be reformed from within, and presents three iconic figures-Thomas Merton, Dorothy Day, and C.S.
Lewis-as models of compassionate and reformist Christianity.
Free Home Delivery
on all orders
Pick up orders
from local bookshops