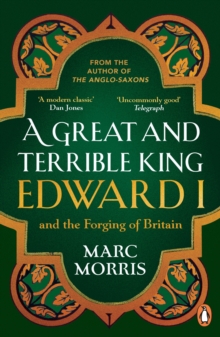 A Great and Terrible King : Edward I and the Forging of Britain
Paperback
Description
This is the first major biography for a generation of a truly formidable king.
Edward I is familiar to millions as 'Longshanks', conqueror of Scotland and nemesis of Sir William Wallace ('Braveheart').
Edward was born to rule England, but believed that it was his right to rule all of Britain.
His reign was one of the most dramatic of the entire Middle Ages, leading to war and conquest on an unprecedented scale, and leaving a legacy of division that has lasted from his day to our own. In his astonishingly action-packed life, Edward defeated and killed the famous Simon de Montfort in battle; travelled across Europe to the Holy Land on crusade; conquered Wales, extinguishing forever its native rulers, and constructed - at Conwy, Harlech, Beaumaris and Caernarfon - the most magnificent chain of castles ever created.
After the death of his first wife he erected the Eleanor Crosses - the grandest funeral monuments ever fashioned for an English monarch.
Information
Format: Paperback
Pages: 480 pages, 16 Illustrations, unspecified
Publisher: Cornerstone
Publication Date: 05/03/2009
ISBN: 9780099481751
Free Home Delivery
on all orders
Pick up orders
from local bookshops
Reviews
Showing 1 - 2 of 2 reviews.
Review by john257hopper
16/06/2015
A very readable, well researched and balanced account of this most significant of kingly lives and reigns. This took me longer to read than expected and I slowed down a bit during the interminable Welsh uprisings of the 1270s and early 80s. The author rightly does not judge Edward by modern standards, though some of his actions still shock, such as the execution of half the adult male Jewish population of England in 1279 for alleged counterfeiting.
Review by baswood
16/06/2015
A well written and readable history of Edward 1. Morris successfully combines an historical academic approach with a more popular style that will hold the interest of most readers. There are over 50 pages of notes, which the actual text wears lightly and does not hinder the flow of the storeytelling. Morris is retelling the story of Edward I using mostly secondary sources, but is somewhat successful in getting a feal for the character of the king and his medieval world. There are some novelish like touches particularly at the end of a chapter to whet the appetite of the reader, however there are not so many occasions where Morris resorts to phrases like: "he would have been", or "he may have thought". He keeps his text close to the historical sources.The final chapter sums up the reign of Edward putting it into perspective and challenging some of the views of previous historians and biographersI would certainly recommend this to anyone interested in medieval Britain and to the more casual reader as there is a good story in this very good biography