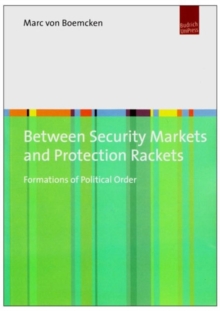 Between Security Markets and Protection Rackets : Formations of Political Order
Paperback / softback
Description
Security is a social practice, which constitutes different formations of political order.
Developing a political economy of security practice, the author distinguishes these formations with a view to the actual exchanges between various providers and receivers of security services.
He thus departs from a popular perspective in political science, which charts ongoing transformations in the global security landscape along a series of categorical divisions between state and non-state or between the public and the private.
A more rewarding analytical perspective conceives the two most dominant security formations in the contemporary world as either based on commercial or on compulsory relations.
Information
Format: Paperback / softback
Pages: 323 pages
Publisher: Verlag Barbara Budrich
Publication Date: 20/02/2013
Category: Political structure & processes
ISBN: 9783863880309
Also by Marc Von Boemcken