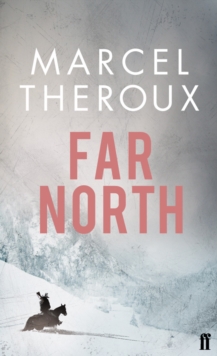 Description
Every day I buckle on my guns and go out to patrol this dingy city.
Out on the far northern border of a failed state, Makepeace patrols the ruins of a dying city and tries to keep its unruly inhabitants in check.
Into this cold, isolated world comes evidence that life is flourishing elsewhere - a refugee from the vast emptiness of forest, whose existence inspires Makepeace to take to the road to reconnect with human society.
What Makepeace finds is a world unravelling, stockaded villages enforcing a rough and uncertain justice, mysterious slave camps labouring to harness the little understood technologies of a vanished civilization.
But Makepeace's journey also leads to unexpected human contact, tenderness, and the dark secrets behind this frozen world. "Far North" leads the reader on a quest through an unforgettable arctic landscape, from humanity's origins to its likely end.
Bleak, haunting, spare - and yet ultimately hopeful, the novel is suffused with an ecstatic awareness of the world's fragility and beauty, and its unexpected ability to recover from our worst trespasses.
Information
Format: Paperback
Pages: 304 pages
Publisher: Faber & Faber
Publication Date: 05/03/2009
Category: Classic fiction (pre c 1945)
ISBN: 9780571237777
Other Formats
Paperback from £6.35
EPUB from £5.58
Free Home Delivery
on all orders
Pick up orders
from local bookshops
Reviews
Showing 1 - 5 of 5 reviews.
Review by wandering_star
16/06/2015
This book takes place sometime towards the end of the current century, in the final decline of a small community which was set up in Siberia by a group of idealistic North American "settlers", round about now, who were sickened by the greed and materialism they saw around them and who wanted to return to more natural and simple ways of life. However, the world outside their community declined, and they were not allowed to live quietly, maintaining their principles of generosity, openness and non-violence. When the book starts, one sole remaining representative of that community, Makepeace, is patrolling the deserted city. Makepeace has lived alone in the city for several years But a sequence of unusual occurrences leads to the start of a trip to discover just what else is out there - has the rest of the world also gone to hell, or are there people still living quiet, normal lives?I should probably caveat my review by noting that I started the book not feeling particularly favourable towards it, having just seen Marcel Theroux's well-meaning but fatuous documentary about Japan, In search of wabi sabi. That said, it read to me like the first draft of a novel, where the author knows the theme and the broad story arc, but hasn't quite worked the details out yet. What do I mean? Well, partly I felt that Theroux wasn't completely clear about what the situation was that triggered the apocalypse - there were references to every one of the possible four horsemen. Also, sometimes literary value trumped realism - I know Theroux was trying to disguise the backstory, but if people were leaving early 21-century Chicago for a life on the land in Siberia, would they really end up with a pianola? (You can get away with oddities like this if you're writing pure sci-fi, but the meditative pacing of this book betrays its lit-fic ambitions). Worst, though, was the bizarre and hurried ending - rather at odds with everything which came before, and with absolutely no set-up through the rest of the story.
Review by Fluffyblue
16/06/2015
This book has been likened to other post apocalyptic novels such as "The Road" by Cormac McCarthy and "Oryx and Crake" by Margaret Atwood - but since I haven't read either (although I own both) I can't comment on that. The book is well-written and set at a decent enough pace. There are some surprising twists along the way, none more so than the first one! It wasn't exactly a story to cheer about. All the characters in it were quite tragic and the landscapes were very bleak. Having said that, it did make for an interesting book and I will not be afraid to read more of this type of fiction.
Review by wendywoo
16/06/2015
Set in the Arctic region sometime in the future, although it doesn't actually say when. The main character of the story is Makepeace, a kind of law keeper patrolling a deserted town. Something cataclysmic has happened to the world (again we never find out what exactly) and most of the cities now lay empty. This is the story of the journey Makepeace makes after witnessing a plane crash, hoping to find civilisation in a bleak, frozen landscape.This isn't the sort of book I would normally choose but I did keep turning the pages to find out the fate of Makepeace. There are a few interesting twists along the way! I think it would appeal to fans of post-apocalyptic titles such as The Road by Cormac McCarthy. Very well written and definitely worth a read.
Review by Veeralpadhiar
16/06/2015
Powerful book. Powerful, magnificent, but brutal and bleak. Makepeace is one of the most resilient of characters that I have ever come across while reading fiction. <br/><br/>I have noticed that many reviews here give away too much of the plot. I would advice against reading them as the magnificence of this book comes out through Marcel Theroux's ingenious writing. He tells you the story by Makepeace's point of view but everytime Theroux holds something back and reveals it finally in a single sentence as if it was of no consequence whatsoever to start with and we (the reader) would have already guessed that fact by ourselves. Marcel kept surprising me right till the end. And I liked the ending too.<br/><br/>The post-apocalyptic scenario is also very well realized as there are no sword-wielding weirdos which is a major cliché of so many post-apocalyptic novels. <br/><br/>But the thing is, it's bloody brutal, right up there with Cormac McCarthy's "The Road" but with one major difference. Here, punctuation marks have survived the apocalypse.
Review by mjennings26
16/06/2015
Loved it. Interesting ideas, settings, character, and story. If you are into speculative fiction at all, this is an excellent read.