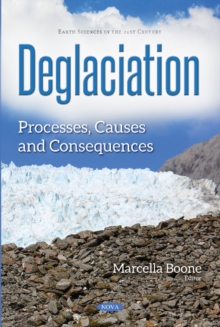 Deglaciation : Processes, Causes & Consequences
Paperback / softback
Description
Global climate during the Quaternary has been deeply influenced by glacial-interglacial oscillations.
Since the onset of glaciations, the Earth has experienced alternations between warm and stable climatic periods coinciding with interglacials, and cold and highly variable climatic intervals coinciding with glacials.
In a suborbital timescale, climate oscillations were maximal during glacial onsets and, very especially, during deglaciations.
Previous deglaciation events were associated with diverse changes in earths atmospheric, physical and biotic environments.
Chapter One contains a brief outline of a case study conducted in western Canada to constrain the Late Pleistocene retreat of the Laurentide Ice Sheet from the region.
Chapter Two reports on the influence of deglaciations in the mid-latitude European climate.
Chapter Three aims to highlight the influence of global and regional paleoceanographic changes on the deglaciation of the marine based Barents ice sheet since the last glacial maximum (LGM) until the onset of marine environment in the Holocene.
Information
Format: Paperback / softback
Pages: 168 pages
Publisher: Nova Science Publishers Inc
Publication Date: 01/10/2017
Category: Historical geology
ISBN: 9781536125016
Free Home Delivery
on all orders
Pick up orders
from local bookshops