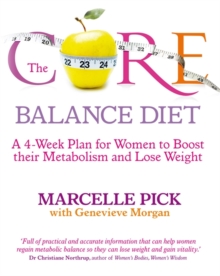 The Core Balance Diet : A 4-Week Plan for Women to Boost their Metabolism and Lose Weight
Paperback / softback
Description
Have you struggled to lose weight despite counting every calorie and exercising to exhaustion?
The Core Balance Diet is a breakthrough plan, developed from thousands of treatments by women, for women.
Designed to restore your body's equilibrium and return you to a healthy, sustainable weight this book will help you: * Learn simple lifestyle changes and smart nutrition choices that will show you how to tune in to your body * Adopt a customised two-week programme geared at restoring your Core Balance and shedding those toxic, stubborn pounds once and for all* Enjoy delicious recipes made from whole foods that give your body the support it needs to heal and won't leave you hungry * Explore underlying issues and emotional patterns that may be getting in your way The Core Balance Diet heralds a whole new chapter in weight loss, proving how easy it is to work with your body and the right foods - not against them - to rid yourself of weight and unhealthy habits for good.
Within a month, you'll be on your way to a lean, fit and balanced body that is ready to support you - and look great - for the rest of your life.
Information
Format: Paperback / softback
Pages: 432 pages
Publisher: Hay House UK Ltd
Publication Date: 03/01/2011
Category: Diets & dieting
ISBN: 9781848502956
Also by Marcelle Pick