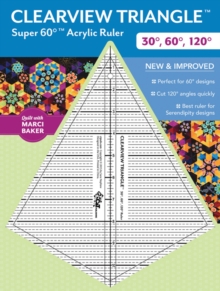 Clearview Triangle Super 60 Degrees Acrylic Ruler : New and Improved
General merchandise
Description
Now with easier-to-read lines and finer markings for accurate measuring.
Make faster cuts for 60 Degrees degree designs that include 120 Degrees triangles and diamonds by using the Super 60.
This speciality ruler cuts 30 Degrees, 60 Degrees, and 120 Degrees degree angles.
Has both .5 and .75 cm seam allowance markings.