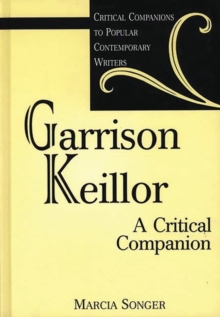 Garrison Keillor : A Critical Companion
Hardback
Description
Combining a career in live radio performances and equally lively short story writing for the New Yorker, Garrison Keillor has continually charmed fans and readers with his homespun wit and warmth.
While acknowledging his career highlights, this full-length critical study supports Keillor's own view of himself as writer rather than performer, by examining his literary accomplishments and giving serious analysis of his fictional works.
In order to understand his tremendous popular appeal, Songer situates Keillor within the rich literary heritage associated with American humorists such as Mark Twain, James Thurber, and Will Rogers.
This volume treats each collection of stories as a cohesive literary entity, from the early works Happy to be Here and Lake Wobegon Days, whose familiar characters concerned themselves with social pressures and teenage angst, to The Book of Guys, which wryly examines the pitfalls of the modern male experience.
In analyzing Keillor's most recent work, the novel Wobegon Boy, Songer expertly explores Keillor's humorous handling of real life lessons to be learned from the small town legacy. This full-length critical study gives readers a close-up view of Garrison Keillor as he reinvents himself from a shy, small town Minnesota native son, to a successful New York writer who is internationally recognized as the voice of everyman.
The well documented biographical and literary heritage chapters familiarize readers with the myriad of literary, social, religious and moral influences that would become thematic materials for Keillor's fiction writing.
Each chapter in this Critical Companion examines closely the character development, plot structure, and thematic concerns that tie together each of Keillor's major works and short story collections.
Literature students and teachers alike will also find very useful the extensive bibliography with a complete list of all of Keillor's writings as well as reviews, criticism, and further biographical information about this delightful writer.
Free Home Delivery
on all orders
Pick up orders
from local bookshops
Also in the Critical Companions to Popular Contemporary Writers series | View all