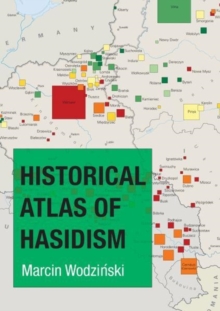 Historical Atlas of Hasidism
Hardback
Description
The first cartographic reference book on one of today's most important religious movementsHistorical Atlas of Hasidism is the very first cartographic reference book on one of the modern era's most vibrant and important mystical movements.
Featuring seventy-four large-format maps and a wealth of illustrations, charts, and tables, this one-of-a-kind atlas charts Hasidism's emergence and expansion; its dynasties, courts, and prayer houses; its spread to the New World; the crisis of the two world wars and the Holocaust; and Hasidism's remarkable postwar rebirth. Historical Atlas of Hasidism demonstrates how geography has influenced not only the social organization of Hasidism but also its spiritual life, types of religious leadership, and cultural articulation.
It focuses not only on Hasidic leaders but also on their thousands of followers living far from Hasidic centers.
It examines Hasidism in its historical entirety, from its beginnings in the eighteenth century until today, and draws on extensive GIS-processed databases of historical and contemporary records to present the most complete picture yet of this thriving and diverse religious movement. Historical Atlas of Hasidism is visually stunning and easy to use, a magnificent resource for anyone seeking to understand Hasidism's spatial and spiritual dimensions, or indeed anybody interested in geographies of religious movements past and present. Provides the first cartographic interpretation of HasidismFeatures seventy-four maps and numerous illustrationsCovers Hasidism in its historical entirety, from its eighteenth-century origins to todayCharts Hasidism's emergence and expansion, courts and prayer houses, modern resurgence, and much moreOffers the first in-depth analysis of Hasidism's egalitarian-not elitist-dimensionsDraws on extensive GIS-processed databases of historical and contemporary records
Information
Format: Hardback
Pages: 280 pages, 62 color + 39 b/w illus., 6 tables, 74 maps
Publisher: Princeton University Press
Publication Date: 24/07/2018
Category: Historical maps & atlases
ISBN: 9780691174013