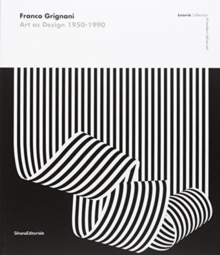 Franco Grignani : Art as Design 1950-1990
Paperback / softback
Description
Briefly affiliated with the Futurist movement as a young painter, Franco Grignani subsequently adopted a geometric abstract style that revealed an increasing fascination with optical effects and perceptual processes.
From the late 1940s onward, Grignani's works took inspiration from Gestalt Psychology, and were characterised by their use of dynamic forms and 'virtual' shapes that seem to warp out of, and recede back into, the surfaces of his compositions. Initially, Grignani's experimental approach was not understood by the artistic establishment of the day, and he worked largely in isolation.
Yet he achieved great success as a graphic designer, creating striking advertising campaigns for a variety of high-profile companies including Pirelli, Fiat and Alfieri & Lacroix, as well as producing covers for a series of science fiction novels published by Penguin during the late 1960s. This striking exhibition will introduce British audiences to the work of a truly pioneering figure whose bold and rigorously precise imagery blurred the boundaries between art and design.
Free Home Delivery
on all orders
Pick up orders
from local bookshops