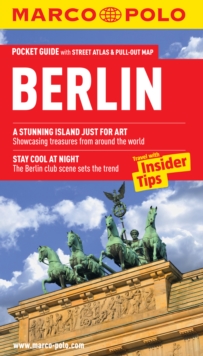 Berlin Marco Polo Pocket Guide
Mixed media product
Description
Marco Polo Berlin: the Travel Guide with Insider TipsFully revised and updated for 2016.
Now with new Discovery Tours chapter. Experience all of Berlin's attractions with this up-to date, authoritative guide, packed with Insider Tips.
Most holidaymakers want to have fun and feel relaxed from the moment they arrive at their destination - that's what Marco Polo Guides are all about.
Discover hotels, restaurants and trendy nightlife venues, as well as numerous tips for shopping, and find out about festivals and events, sports and other activities.
Also contains: the Perfect Day, Travel Tips, Travel with Kids, Links, Blogs, Apps & more, German phrasebook and a comprehensive index. People have always been hooked on Berlin. A haven for various lifestyles and artistic movements, and the setting for momentous political and historical events, the city never stops reinventing itself.
Despite its tumultuous past, today Berlin considers itself very much at the modern heart of Europe and is acknowledged as a trendsetter the world over. A practical, pocket-sized guide, MARCO POLO Berlin takes you on a tour through its endlessly varied cultural landscape.
The 'Where to Start' panels highlight the best places to begin sightseeing, the best places to shop, and the trendiest places to go in the evening in the metropolis that never closes. The Insider Tips explain how to take a ride in the U-Bahn Cabrio (open-top metro) and where to buy violet mustard, milk grappa, and garlic chocolates.
The 'Best Of' pages highlight some unique aspects of Berlin, recommend places to go for free, and contain tips for rainy days and where you can relax and unwind.
Panels in each chapter suggest things to do if you're on a tight budget and where to pick up some real bargains.
The City Walks include exploring the past in the Hackesche Hofe (courtyards) and strolling along the line of the now vanished Wall. The Dos & Don'ts explain why its best to steer clear of conjuring tricks, and the Travel Tips tell you why it's best to put your money on the Welcome Card. MARCO POLO Berlin provides comprehensive coverage of the city.
To help you find your way around there's a detailed street atlas inside, a useful public transport map in the backcover, plus a handy pull-out map.
A must-have for all travellers, including those who haven't bought a travel guide in the past.
Information
Format: Mixed media product
Pages: 168 pages, col. Illustrations, col. maps
Publisher: MAIRDUMONT GmbH & Co. KG
Publication Date: 01/03/2012
Category: Travel & holiday guides
ISBN: 9783829706537
Free Home Delivery
on all orders
Pick up orders
from local bookshops
Reviews
Showing 1 - 1 of 1 reviews.
Review by TPauSilver
16/06/2015
So, I recently spent a long weekend in Berlin. The first time I'd been abroad as a responsible adult and this is the guide book I took with me. It has good points and bad point. It lists a hell of a lot of places to visit and every one we followed up we found worth our time. There are so many maps in this book it makes navigation pretty damn easy. What it lacked, it turned out, was basic practical advice for navigating Germany. A few practical things I found on the internet while in Germany that I wish this guide had included - 1. You obey the stop and go man signal ALL THE TIME. Even if there's nothing coming. But if it's green at a crossroads that doesn't mean it's safe. Traffic turning into the road you're crossing will also have a green light and they should theoretically give way to you but, yeah...2. When you go to the bathroom there will be a lady. It's her job to clean the bathroom. You have to give her money. The internet advised 50c so that's what we did. This makes needing to use the bathroom into a potentially expensive hobby so be aware of it. 3. Tipping works like this. Your server will give you the bill. You look at it and tell them how much you want to pay (like in England, a small tip is expected) and they take your money and give you change. If you try the English way of just lobbing a random amount of money at them to cover food and tip they will be annoyed at you. Also, don't ride the public transport without a ticket, however tempting it may seem as there are no gates that require you to swipe your ticket to enter. If you are caught they will give you a spot fine which won't be much fun. I didn't run foul of this one myself but learnt it so thought I'd throw it in. So, yeah, good for things to see, not so much for practical tips about how not to make enemies and alienate people.
Also in the Marco Polo Travel Guides series | View all