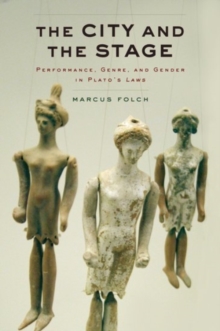 The City and the Stage : Performance, Genre, and Gender in Plato's Laws
Hardback
Description
What role did the performance of poetry, music, song, and dance play in the political life of the ancient city?
How has philosophy positioned itself and articulated its own ambitions in relation to the poet tradition?
The Polis and the Stage poses such questions through a reading of Plato last, longest, and unfinished work, the Laws.
Plato's engagement with the Greek poetic tradition has long been recognized as foundational in the history ofliterary criticism, but the broader critical and philosophical significance of the Laws has been largely ignored.
Although Plato is often thought hostile to mimetic art, famously banishing poets from the ideal city of the Republic, this book shows that in his final dialogue Plato made a striking about-face, proposing torehabilitate Athenian performance culture and envisioning a city, in which poetry, music, song, and dance are instrumental in the cultivation of philosophical virtues.
The psychological underpinnings of aesthetic experience and the power of mimetic art to predispose a society to specific kinds of constitutions are central themes throughout this study.
Plato's views of the performative properties of language and genre receives systematic treatment in this study for the first time.
Performance asa mechanism of sexual construction-a network of social practices uniquely suited to communicate and enforce normative conceptions of gender and erotic pleasure-is another focus, with special attention given to positions occupied by women in the culture envisaged in the Laws.
As a whole, MarcusFolch's book provides an integrated interpretation of Plato's final dialogue with the Greek poetic tradition, an exploration of the dialectic between philosophy and mimetic art, which will be of interest to anyone concerned with understanding ancient Greek performance and the emergence of philosophical discourse in fourth-century Athens.
Information
Format: Hardback
Pages: 400 pages
Publisher: Oxford University Press Inc
Publication Date: 01/12/2015
ISBN: 9780190266172