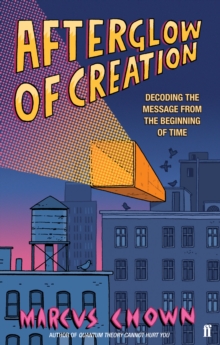 Afterglow of Creation : Decoding the Message from the Beginning of Time
Paperback
Description
Stephen Hawking described it as 'the discovery of the century, if not of all time', yet the scientists who first detected the cosmic radiation that was identified as the afterglow of the big bang had to admit that it was more by accident than intention.
At first its discoverers mistook the readings for the disruption caused by the droppings of pigeons that had nested in their telescope, and yet they went on to win the Nobel prize.
In the mid-1990s, "New Scientist" writer Marcus Chown drove across America to interview the key scientists who had made this astonishing discovery.
Their account and Chown's description of their achievement was published to much acclaim.
But now, over a decade later, in this new and fully revised edition, he goes behind the hype and the hysteria to provide a clear and lively explanation of one of the biggest discoveries in modern science - and a brilliant picture of what happened next.
Information
Format: Paperback
Pages: 288 pages
Publisher: Faber & Faber
Publication Date: 21/01/2010
Category: Cosmology & the universe
ISBN: 9780571250592
Free Home Delivery
on all orders
Pick up orders
from local bookshops
Reviews
Showing 1 - 2 of 2 reviews.
Review by Helen.Callaghan
16/06/2015
Fascinating dicussion on the history of background microwave radiation research, and what it tells us about the early universe.<br/><br/>If you're anything like me, something threatening to talk about radiation microwaves probably sounds hopelessly dry, but the subject matter is delivered in such a way that the issues are clear, and yet the reader is not patronised, and can enjoy the potential mind-blowingness of the discoveries without a degree in astrophysics. <br/><br/>Really recommended.
Review by LynleyS
16/06/2015
A few years ago I read The Never-ending Days Of Being Dead which blew my mind. This one is more specifically about some of the most influential scientists who have spent their entire working lives discovering all that stuff that blew my mind. I've often wondered *how* we know what we do, because understanding the universe feels to me like asking one of my gut bacteria to explain what I look like. If you're interested in the lengths astrophysicists go to in order to prove theories, and the politics of prizes and the nature of science reporting then this is a book for you.