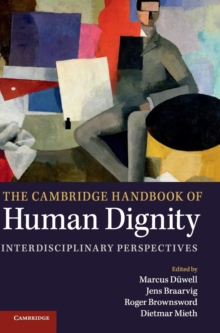 The Cambridge Handbook of Human Dignity : Inter-disciplinary Perspectives
Hardback
Description
This introduction to human dignity explores the history of the notion from antiquity to the nineteenth century, and the way in which dignity is conceptualised in non-Western contexts.
Building on this, it addresses a range of systematic conceptualisations, considers the theoretical and legal conditions for human dignity as a useful notion and analyses a number of philosophical and conceptual approaches to dignity.
Finally, the book introduces current debates, paying particular attention to the legal implementation, human rights, justice and conflicts, medicine and bioethics, and provides an explicit systematic framework for discussing human dignity.
Adopting a wide range of perspectives and taking into account numerous cultures and contexts, this handbook is a valuable resource for students, scholars and professionals working in philosophy, law, history and theology.
Information
Format: Hardback
Pages: 634 pages
Publisher: Cambridge University Press
Publication Date: 10/04/2014
Category: Ethics & moral philosophy
ISBN: 9780521195782