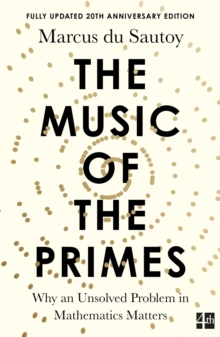 The Music of the Primes : Why an Unsolved Problem in Mathematics Matters
Paperback
Description
The paperback of the critically-acclaimed popular science book by a writer who is fast becoming a celebrity mathematician.Prime numbers are the very atoms of arithmetic.
They also embody one of the most tantalising enigmas in the pursuit of human knowledge.
How can one predict when the next prime number will occur?
Is there a formula which could generate primes? These apparently simple questions have confounded mathematicians ever since the Ancient Greeks.In 1859, the brilliant German mathematician Bernard Riemann put forward an idea which finally seemed to reveal a magical harmony at work in the numerical landscape.
The promise that these eternal, unchanging numbers would finally reveal their secret thrilled mathematicians around the world.
Yet Riemann, a hypochondriac and a troubled perfectionist, never publicly provided a proof for his hypothesis and his housekeeper burnt all his personal papers on his death.Whoever cracks Riemann's hypothesis will go down in history, for it has implications far beyond mathematics.
In business, it is the lynchpin for security and e-commerce.
In science, it has critical ramifications in Quantum Mechanics, Chaos Theory, and the future of computing.
Pioneers in each of these fields are racing to crack the code and a prize of $1 million has been offered to the winner.
As yet, it remains unsolved.In this breathtaking book, mathematician Marcus du Sautoy tells the story of the eccentric and brilliant men who have struggled to solve one of the biggest mysteries in science.
It is a story of strange journeys, last-minute escapes from death and the unquenchable thirst for knowledge.
Above all, it is a moving and awe-inspiring evocation of the mathematician's world and the beauties and mysteries it contains.
Information
Format: Paperback
Pages: 368 pages
Publisher: HarperCollins Publishers
Publication Date: 06/09/2004
ISBN: 9781841155807
Free Home Delivery
on all orders
Pick up orders
from local bookshops
Reviews
Showing 1 - 2 of 2 reviews.
Review by Sander314
16/06/2015
Marcus du Sautoy's book jumps too quickly from topic to topic and is often way too shallow, especially in the more mathematical parts. He also constantly uses vague metaphors, usually without even mentioning the proper term. Especially the constant mentioning of 'clocks' and 'hours' when talking about modular arithmetic annoyed me to no end. Likewise, many theorems are mentioned without ever explaining what they are. Some kind of footnotes or endnotes would have been perfect here for those with a background in mathematics, or even for interested readers who don't.Regardless, the biographical sections are often very interesting, and the book contained quite a few mathematical tidbits I didn't know about. Also enjoyed the parts about the connection to quantum physics, which really surprised me.
Review by elmyra
16/06/2015
This took me a long time to read. Not quite convinced the got the balance between maths (relatively little) and anecdotes about mathematicians right, but I do appreciate that it's difficult to explain that kind of maths to the general public, and let's face it, I was struggling occasionally on the bits he did try.Bechdel: 3 female mathematicians are mentioned (Sarah Flannery, Julia Robinson, Sophie Germain) though they never actually talk to each for more or less obvious reasons. I imagine if they did, they's be talking about maths though, and I like that thought. The scarcity of women in the book reflects on the field and the historical prejudice, not on du Sautoy. Though I would like to see him do more to actively encourage girls to get into the sciences and maths especially, in his new-ish job in charge of public understanding of science .