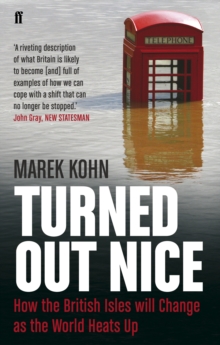 Turned Out Nice : How the British Isles Will Change as the World Heats Up
Paperback
Description
Marek Kohn's Turned Out Nice is nothing less than a portrait of Britain (and Ireland) a hundred years in the future, based on scientific evidence surrounding climate change that is available to us now.
Beautifully written, and imbued with a love of these islands' unique landscapes, it will change they way you think about the climate and global warming.
It is not an alarmist tract. Kohn is a fiercely honest writer and a biologist by training.
He makes it clear that some parts of Britain will be more like the nicer regions of today's Mediterranean.
But we will pay a price for this good fortune. Our parks will be arid brown fields; private automobile use will probably be unheard of; water will be severely rationed; significant stretches of our beloved coastline will have been sacrificed to the sea.
Floods on these coasts and in certain river valleys will make them uninhabitable.
Some of our flora and fauna will have vanished; exotic animals and pests will flourish.
Vast numbers of marginalised human migrants will be here.
Surveillance and restriction of our movements will be taken for granted.
Walking in what is left of 'nature' will be nearly impossible. Terrible summer fires in our upland areas will be commonplace.
As the severe flooding in Somerset shows, Turned Out Nice is more relevant than ever: it is a report from the near future that we cannot afford to ignore.
Information
Format: Paperback
Pages: 240 pages
Publisher: Faber & Faber
Publication Date: 01/07/2011
Category: Meteorology & climatology
ISBN: 9780571238163
Other Formats
Paperback from £11.79
EPUB from £5.58
Free Home Delivery
on all orders
Pick up orders
from local bookshops
Reviews
Showing 1 - 1 of 1 reviews.
Review by SandDune
16/06/2015
Given the extreme weather events we've been having over the last few days I decided to read this book about global warming which has been sitting on my kindle for a while, extreme weather events being supposed to be an indicator of global warming after all. Marek Kahn's book focuses on what the environment of the British Isles will be like by 2100 assuming an average temperature rise of between three and four degrees Celsius. He takes specific locations in the U.K. and Ireland and looks at the specific changes that might be expected to these environments. The locations he chooses are quite varied: a London which might be rather more like modern day Marseilles; a coastal stream in Sussex; a Suffolk Coast that with higher sea levels is even more susceptible to erosion than today; the upland areas of the Brecon Beacons and theYorkshire Dales; a Scottish glen where plans for a new Caledonian forest are afoot; and finally the limestone platforms of the Burren in western Ireland. Kahn looks at all these areas in some detail: from the effect of sea level rise and coastal erosion, to the effect of changes in temperature rise on the ranges of plants and animals. A particularly interesting section was that on the Scottish Highlands, where Kahn considers the question of the reintroduction of once native species such as beaver and wolf, and considers the point of conservation. In a changing climate should a conservationist focus on the protection of species and habitats that have historically existed in the British Isles, but which will struggle hugely in a warmer climate? Or does it make more sense to allow Britain to become a sanctuary for beleaguered species from further south that can no longer survive in their current ranges.So some interesting ideas and it seemed a well researched book.But to be honest I'm a little disappointed. Firstly, the books was crying out for some maps: understanding how changes in a species's range depend on changes in temperature calls out for a map, as does consideration of how much of London might be subject to the risk of flooding. And there were no photographs or illustrations: I've been to all but one of the locations mentioned but not every reader will have been and in many cases understanding what it looks like now is crucial to understanding the effect of a change. And some artist's impressions of what that change might look like would have been nice as well. But my main complaint about the book, is that instead of confining itself to what seem fairly well-evidenced predictions about the effect of climate change on individual elements of the natural world, it keeps diving into fairly haphazard predictions of the effect that climate change will have on the society of Britain in 2100. And these predictions, rather than being presented as one of a number of possible scenarios, are presented as an almost inevitable outcome of global warming.Here is an example about the organisation of ramblers of the Southern England of 2100:<I>Visitors are not permitted to stray more than a metre either side of the path without prearranged permission. There are no fences to enforce the rambling ban: there is no need. Everybody's position is always known, In town or country, thanks to their mobiles. If visitors go beyond the metre-wide buffer zone, they are sent a warning; if they tarry too long before getting back onto the tracks, fines are deducted from their bank accounts</I>I mean, Kohn doesn't know any such thing - it reminds me so much of those 1960's predictions that we would all be wearing silver jumpsuits and wearing jet packs by now. And for me these flights of fancy really detract from some interesting facts elsewhere.So, overall some parts were interesting but I feel sure that there must be a better book out there on this subject.