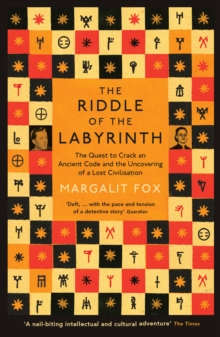 Riddle of the Labyrinth : The Quest to Crack an Ancient Code and the Uncovering of a Lost Civilisation
Paperback
Description
The decoding of Linear B is one of the world's greatest stories: from the discovery of a cache of ancient tablets recording a lost prehistoric language to the dramatic solution of the riddle nearly seventy years later, it exerts a mesmerising pull on the imagination.
But this captivating story is missing a crucial piece.
Two men have dominated Linear B in popular history: Arthur Evans, the intrepid Victorian archaeologist who unearthed Linear B at Knossos and Michael Ventris, the dashing young amateur who produced a solution.
But there was a third figure: Alice Kober, without whose painstaking work, recorded on pieces of paper clipped from hymn-sheets and magazines and stored in cigarette boxes in her Brooklyn loft, Linear B might still remain a mystery.
Drawing on Kober's own papers - only made available recently - Margalit Fox provides the final piece of the enigma, and along the way reveals how you decipher a language when you know neither its grammar nor its alphabet as well as the stories behind other ancient languages, like the dancing-man Rongorongo of Easter Island.
Information
Format: Paperback
Pages: 352 pages
Publisher: Profile Books Ltd
Publication Date: 01/07/2014
Category: Writing systems, alphabets
ISBN: 9781781251331
Free Home Delivery
on all orders
Pick up orders
from local bookshops
Reviews
Showing 1 - 1 of 1 reviews.
Review by moncur_d
27/08/2015
I've been a sucker for the Minoans since I did a school project on them in grade six, and I've always had a fascination with writing systems.This brook brings the two together beautifully stepping through the techniques to decrypt linear B - baically the Bletchley Park of 1300 BC.The book's clear, well written, and explains the concepts clearly - no knowledge of Mycenean Greek or cryptography required - it's a detective story, and an utterly facinating one ...
Also by Margalit Fox