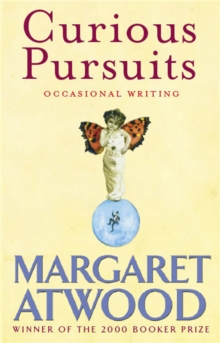 Curious Pursuits : Occasional Writing
Paperback
Description
Whenever I resolve to write less and do something healthful instead, like ice dancing - some honey-tongued editor is sure to call me up and make me an offer I can't refuse. So in some ways this book is simply the result of an under-developed ability to say no.' Collected and published in the UK for the first time, here are essays and journalism from the brilliant novelist and poet.
Ranging from book reviews of John Updike and Toni Morrison to an appreciation of Dashiell Hammet; an account of a journey in Afghanistan that sowed the seeds of The Handmaid's Tale; passionate ecological writings; funny stories of 'my most embarrassing moments'; obituaries of some of her great friends and fellow writers: Angela Carter, Mordecai Richler, Carol Shields. This is an insightful, thoughtful and revealing record of the life and times and writings of Margaret Atwood from 1970 to the present.
Information
Format: Paperback
Pages: 432 pages
Publisher: Little, Brown Book Group
Publication Date: 01/12/2005
Category: Literary essays
ISBN: 9781844081509
Free Home Delivery
on all orders
Pick up orders
from local bookshops
Reviews
Showing 1 - 1 of 1 reviews.
Review by Calissa
16/06/2015
Curious Pursuits is a collection of reviews, forewords and essays by Margaret Atwood. The pieces, written between 1970 and 2005, have been collected into a single volume and seem to have no connecting link between them other than their author. There are definitely reoccuring themes--such as the state of Canadian literature/culture, feminism and, more towards the end, environmentalism--but overall, it doesn't seem strong enough to hang together.In the acknowledgements section, Atwood describes overhearing four Irish women discussing her books and complaining that they were becoming too long. She points to the short length of some of the pieces in the book as a peace offering. The book itself, however, is rather chunky. This left it in a weird space for me. It was too big to take travelling with me, but the stories were too short to engage me for an extended reading session at home. I found myself putting this book down a lot and wandering off to do other things.And yet I read the book all the way through. Part of this is probably due to my own stubborness--I'm always very reluctant to put a book down once I've started. But the book held interest for me as a writer. A writer, it seems, will write and write a profusion of different things. It was interesting to me to see all the different forms Atwood's writing has taken apart from her novels (and made me feel better that I am not the only one with diverse writing interests). Her comments about writing had potential for further rumination on my part. I found her book reviews interesting on a couple of levels--discovering both what she had been reading, what her thoughts on it were and the improvement over the years in how she wrote the reviews. I found her essay on The Island of Doctor Moreau particularly interesting and a stronger note to finish the book on.However, I don't think it revealed all that much about Atwood as a person, though there was some personal detail, and overall I was left wondering what the point of the book was.