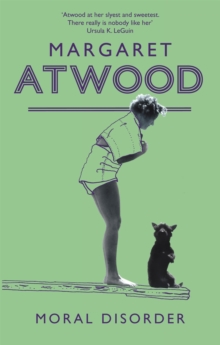 Description
Atwood entices us to flip through the photo album of a Canadian woman who closely resembles herself.
Come here, sit beside me, she seems to say. Then she takes us on an emotional journey through loneliness, love, loss and old age' Sarah Emily Miano, THE TIMES Short stories that trace the course of a life, and the lives intertwined with it - MORAL DISORDER is Margaret Atwood at her very finest. 'Funny, touching, beady-eyed, slouchily elegant, giving us family life in all its horrors.
The secret resentments and alignments - difficult siblings, unfair parents, hopeless yearnings and rage - are funny to read about, hellish to experience.
Atwood makes it look so easy, doing what she does best: tenderly dissecting the human heart ...A marvellous writer' Lee Langley, DAILY MAIL 'A model of distillation, precision, clarity and detail ...Atwood writes with compassion and intensity not only about her characters but also about the 20th century itself' Mary Flanagan, INDEPENDENT 'MORAL DISORDER is an infinitely ingenious and perceptive study, as intimate as a self-portrait but with an epic breadth of vision.
It deserves to become a quiet classic' Charlotte Moore, SPECTATOR
Information
Format: Paperback
Pages: 272 pages
Publisher: Little, Brown Book Group
Publication Date: 06/09/2007
ISBN: 9781844080335
Other Formats
Hardback from £12.35
EPUB from £6.99
Free Home Delivery
on all orders
Pick up orders
from local bookshops
Reviews
Showing 1 - 2 of 2 reviews.
Review by SmithSJ01
16/06/2015
It is a lovely book and well worth reading but I didn't enjoy the last two 'stories' as much as the others, hence 4/5 rather than 5/5. The book will be enjoyed by Margaret Atwood fans and I think readers new to her work might enjoy it as a starting point because it's a simple but fascinating read. Nothing complicated, no morals as such. It's purely a story about family life. This edition doesn't say that it's a series of stories on the front whilst others do. Therefore if you want a complete novel I'd select something else. Whilst it isn't short stories as such, in that the same characters keep surfacing; the stories are complete units of life. Having said this, they all link together somehow. Short enough to read in one sitting or spread out longer depending on how much you like to take in or deliberate as you're reading. Having finished this I could easily go straight on to another book by her which is testament to how different each of her books are; usually I'd have to have a break in between authors. Well worth reading!
Review by atreic
16/06/2015
I don't really like short stories, and I don't really like autobiographies. So this very autobiographical feeling collection of short stories was never going to hit the spot for me. However, my library doesn't have a huge range of audio books, and I do like Atwood lots.I found the deliberately-crypticness quite annoying, especially as it was an audio book so I couldn't flick backwards and forwards and look for clues. Was this person the same as the previous person? Was this sister the same as the previous sister? I guess this is Art, and I am just a heathen. Atwoods short stories are like a shaft of sunlight, illuminating a small patch of house from a strange angle - everything is bright and vivid, and you see it far more powerfully than you usually would - but sometimes you wish she would just switch on all the lights and tell the story straight. Like many autobiographical things, nothing much really happens. Just normal people living normal lives, much of the drama between the cracks of the stories. Actually, they are fascinating people living interesting lives, so perhaps the fact that they feel familiar and prosaic tells you something about the storytelling. The final story, reflecting on how her mother loves to be told stories about her life when she is old, and the protagonist only knows the ones her mother has told her, and the glimpses of others she sees in the photoalbum, make you feel that this book was written as a gift to the narrators future self...