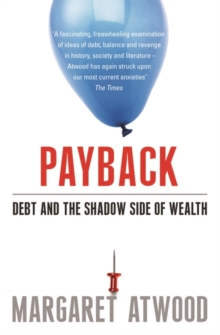 Payback : Debt and the Shadow Side of Wealth
Paperback
Description
In this wide-ranging history of debt Margaret Atwood investigates its many meanings through the ages, from ancient times to the current global financial meltdown.
Many of us wonder: how could we have let such a collapse happen?
How old or inevitable is this human pattern of debt?
Imaginative, topical and insightful, Payback urges us to reconsider our ideas of ownership and debt - before it is too late.
Information
Format: Paperback
Pages: 240 pages
Publisher: Bloomsbury Publishing PLC
Publication Date: 04/05/2009
Category: Cultural studies
ISBN: 9780747598718
Free Home Delivery
on all orders
Pick up orders
from local bookshops
Reviews
Showing 1 - 1 of 1 reviews.
Review by edwinbcn
16/06/2015
Payback. Debt and the shadow side of wealth is the result, in book form, of the five lectures Margaret Atwood delivered for the CBC Massey Lectures Series in 2008. Each lecture explores the way debt is part of literary works.In as far as debt and finance are interesting topics, the talks put the spotlight on the financial aspect of literary works, most of which readers are all familiar. Well-known works featuring examples of avarice, greed and envy are paraded along with many other works, which are shown to contain elements related to the world of finance.The result is a very eclectic compilation of ideas, which often feels stretched or far-fetched. There is no clear development or progression, merely a piling of often unconnected ideas. As in many literary works, finance and debts are possibly minor motives, forefronting the issue seemingly deflects the theme of many novels. For instance, Atwood writes "When I was young and simple, I thought the nineteenth century novel was driven by love; but now, in my more complicated riper years, I see that it's also driven by money, which indeed hold a more central place in it than love does." She goes on to show that in Wuthering Heights Heathcliffe's victory in love is won through the financial ruin of Linton. Regardless of how interesting that might be, it is doubtful that many people will want to reread Wuthering Heights from that point of view.Besides exploring debt and finance as themes in literature, Atwood also extensively looks at the way language deals with money matters. She illustrates the origin and way nineteenth century authors used the word "ruin", and uses The Pilgrim's Progress to show how "death washes away all debt". There are many literary works in which contracts bind characters to a deathly bond, and Atwood uses both well-known and lesser literary works or fairytales to demonstrate this. Payback is also rich in detail. For example, how many readers would realize that Ebenezer Scrooge's given name, "Ebenezer" means "rock that helps" showing that Scrooge has the good in him all the while (p.99).It is obvious that Atwood had no shortage of material to choose from. In fact, the wealth of material presented is the weakness of the book. There are far too many examples, to make Payback and pleasant read. Each page contains multiple examples from very different genre and periods. This dazzling of snippets of information keeps the author from more in-depth reflection. The author has also branched out too much, by including virtually all aspects of finance, and taking on all of world literature. Thus, the theme has become too broad, and instead of a well-paced contemplation, the book reads as a light, too light, entertainment. It should be remembered that these are not essays, but lectures, probably for an audience not used to too much depth.