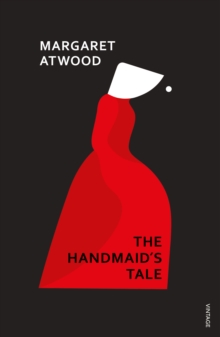 The Handmaid's Tale
Paperback
Description
NOW A SMASH-HIT CHANNEL 4 TV SERIESThe Republic of Gilead offers Offred only one function: to breed.
If she deviates, she will, like dissenters, be hanged at the wall or sent out to die slowly of radiation sickness.
But even a repressive state cannot obliterate desire - neither Offred's nor that of the two men on which her future hangs. Brilliantly conceived and executed, this powerful evocation of twenty-first century America gives full rein to Margaret Atwood's devastating irony, wit and astute perception.
Information
Format: Paperback
Pages: 320 pages
Publisher: Vintage Publishing
Publication Date: 01/06/1996
ISBN: 9780099740919
Other Formats
Hardback from £9.15
Paperback from £7.65
EPUB from £4.99
Free Home Delivery
on all orders
Pick up orders
from local bookshops
Reviews
Showing 1 - 5 of 21 reviews.
Previous | Next
Review by Eric_the_Hamster
16/06/2015
A chilling tale about a future where pollution has caused mass infertility, and a repressive theocracy is in power in America, the latter based (I think) on Atwood's observations on Taliban ruled Afghanistan. Women in particular, are suppressed under the new system.I seem to recall everyone in our book group enjoyed this one, and the provocative discussion that came from it.
Review by dylanwolf
16/06/2015
Now if all science fiction were this good, it could stand as a respectable genre. Atwood future dystopia envisages a militaristic dictatorship which enslaves the few, remaining fertile women and forces them to procreate with a privileged elite. The protagonist is Offred, a concubine to a person she knows solely as the Commander. Atwood has created the details of an entire and fully believable society and creates a very dark and sinister story. There are many symbols and allegories woven into the text, but the whole remains engagingly readable.Quite properly, Margaret Atwood's most celebrated achievement.
Review by soylentgreen23
16/06/2015
Enough has been written about this book elsewhere to make anything I have to say on the subject relatively redundant. Atwood is indeed a wonderful writer, and this book carries with it a powerful message, but somehow all the bits didn't click into place for me as I read it. The story is delicately told, and graphic when it needs to be, so that the overall effect is certainly disturbing enough; perhaps the trouble is that, after so many dystopian treatises, I've become trouble-blind. It can happen, you know.
Review by gemilyinterrupted
16/06/2015
I remember being blown away by this book when I read it first, around 15 years ago. And it is still mind-blowing and awesome. Eerie and chilling and intriguing. I had forgotten how much I love Atwood's writing style too. Well worth re-reading as an adult. I suppose it must have had a different feel for me now that I'm in my 30s and I guess my own fertility is gradually becoming questionable, whereas reading it as a 15 year old some of the issues must surely have been beyond my comprehension or sensitivity. I could just about read it over again for a third time.
Review by Anelie
16/06/2015
One of the most famous examples of literary science fiction, Atwood's book takes the classic speculative fiction approach by beginning with the question, 'what if these quotes from the Bible were literally true?' and imagines the society which would result.