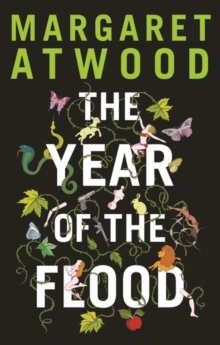 The Year of the Flood
Hardback
Description
Adam One, the kindly leader of the God's Gardeners - a religion devoted to the melding of science and religion, the preservation of all species, the tending of the Earth, and the cultivation of bees and organic crops on flat rooftops - has long predicted the Waterless Flood.
Now it has occurred, obliterating most human life. Two women have avoided it: the young trapeze-dancer, Ren, locked into the high-end sex club, Scales and Tails; and former SecretBurgers meat-slinger turned Gardener, Toby, barricaded into the luxurious AnooYoo Spa, where many of the treatments are edible. Have others survived? Ren's bioartist friend Amanda, or the MaddAddam eco-fighters?
Ren's one-time teenage lover, Jimmy? Or the murderous Painballers, survivors of the mutual-elimination Painball prison?
Not to mention the CorpSeCorps, the shadowy and corrupt policing force of the ruling powers...Meanwhile, in the natural world, gene-spliced life forms are proliferating: the lion/lamb blends, the Mo'hair sheep with human hair, the pigs with human brain tissue. As Adam One and his intrepid hemp-clad band make their way through a ruined world, singing their devotional hymns and faithful to their creed and to their Saints - Saint Francis Assisi, Saint Rachel Carson, and Saint Al Gore among them - what odds for Ren and Toby, and for the human race?
By turns dark, tender, violent, thoughtful and uneasily hilarious, The Year of the Flood is Atwood at her most effective.
Information
Format: Hardback
Pages: 448 pages
Publisher: Bloomsbury Publishing PLC
Publication Date: 07/09/2009
ISBN: 9780747585169
Other Formats
Paperback from £8.85
EPUB from £4.99
CD-Audio from £6.85
Free Home Delivery
on all orders
Pick up orders
from local bookshops
Reviews
Showing 1 - 4 of 4 reviews.
Review by elkiedee
16/06/2015
This story opens in the aftermath of an environmental disaster, and is told from the viewpoints of two women who have survived, but are so isolated that they cannot be sure that anyone else has. Ren tells her own story in the first person, while we learn about Toby through a third person narrative. Although this might seem to make Ren's story seem more immediate and bring her character closer to the reader than that of Toby, it also has the effect of making Toby's thoughts and reflections appear to somehow be more authoritative.Both women have spent a lot of their lives until recently living as part of an alternative community, a commune called "God's Gardeners" and the Ren/Toby narratives are also interspersed with speeches, or perhaps sermons, from the leader of the group to other members, and hymns. God's Gardeners are trying to establish self-sufficiency and living in a way which will not be at the expense of the planet, giving up on modern conveniences such as the mobile phone. Both Ren and Toby came to live with the community in circumstances which were not of their choosing, though, and have struggled to fit in. They are also very aware of the inconsistencies and flaws of community members and their actions.The Year of the Flood can be described as a kind of sequel to Oryx and Crake, published in 2003. It is set after the catastrophe and many of the same characters appear in some way – Ren and her friend Amanda are portrayed through Snowman's memories of his past. I found The Year of the Flood much more engaging though. I could recognise the high quality of the writing in Oryx and Crake and found Atwood's vision of what might happen really frightening. One aspect of reading a novel I enjoy is the interaction between characters, and in that story other characters are only portrayed in the main character's memory; for all he knows, he is the only surviving human. In The Year of the Flood, I found Ren and Toby both much more sympathetic characters, and although Ren and Toby also spend most of the present day narrative of the book alone, I was drawn in by their stories and their hopes for some sort of survival.I also liked the portrayal of the alternative ways of life in this novel. Although I admit I would personally find the God's Gardeners option very hard, and the author through her heroines does show quite a critical perspective on this group, the other choices in the novel seem much grimmer. Capitalism is embodied in CorpSeCorps, the company which has gradually taken over all sorts of things including a lot of the functions of the state, and its workings are deeply sinister. Toby's mother worked selling health supplements but they were unable to save her when she became ill, and nor were the privatised clinics run by her employer Helth Wyzer. For those in this society who do not have the dubious privileges of employment and life controlled by the corporation, there is the scary life of the street kids, contemptuously described as pleebrats by God's Gardeners (commune members are not immune to snobbery.A lot of The Year of the Flood is told through flashbacks and memories of how Ren and Toby have ended up where they are, but the novel is also held together and driven forward by the present day suspense of their situation. Will they be able to get out into the outside world and make a new life for themselves in the aftermath of the disaster? Will they find each other or other survivors? These questions, and lots of others, help to keep turning the pages and find out what has happened and where the story will go next. I think this more obvious storyline also makes the novel a more attractive read than Oryx and Crake.The Year of the Flood is a complex novel and I think I would like to reread it and that I would get more out of doing so, maybe in conjunction with a reread of Oryx and Crake.
Review by pokarekareana
16/06/2015
A captivating read - Atwood has developed a dark, intriguing picture of a dystopian society in its latter stages. I hadn't realised it ran alongside Oryx and Crake so I will have to read that too!
Review by jintster
16/06/2015
Atwood's follow up to Oryx and Crake is not exactly a sequel - it covers the same period as the first novel but from the viewpoint of different characters. In The Year of the Flood, the two main protagonists are very different women Ren and Toby. A cataclysmic disease has wiped out most of the population but they have survived. The story moves forward from the date of the apocalyptic event but the bulk of the novel describes the lead up to it. Both Ren and Toby are/were members of a religious sect called God's Gardeners who are basically environmental, vegetarian Christians fighting against a society (if that's the word) governed, if at all, by corporations with no interest in anything except profit.I'm a sucker for dystopian and post-apocalyptic novels so I was bound to enjoy one that combines both, especially when the writer is as accomplished as Atwood. The characters are very well-drawn and the plot is gripping. That said, there are some significant flaws in the novel. The first is that every chapter starts with a sermon by Adam One, the de facto leader of the generally non-hierarchical God's Gardeners. This breaks up the narrative in a way which is often irritating. While it does help to fill in the background of the dystopia it becomes apparent that Atwood's world is not very well realised. This wasn't very obvious from Oryx & Crake which was set mainly in the corporation compounds, a very believable setting. But here we find ourselves in the Pleebs, where those who don't work for corporations are stuck. Atwood's world is anarcho-capitalist. There is no Government at all and environmental disasters have ruined large parts of the world including much of North America. The Pleebs are anarchic, with feral kids, forced prostitution, fast food made of humans etc. But there are still roads, electricity, shops, well-to-do suburbs. This doesn't really work - society has broken down but somehow there is still the necessary infrastructure in place for it to continue. Some order is provided by the Corpsecorps, a kind of police force run by the corporations but that's pretty much it. Nevertheless, it's not hard to suspend disbelief while enjoying the gripping plot I look forward to the final part of the trilogy.
Review by lillasmee
16/06/2015
Jeanette Winterson writes, in her NYT review of YOTF, that 'Atwood is funny and clever, such a good writer and real thinker that there's hardly any point saying that not everything in the novel works.' And not everything does. But by golly it's still a great read - especially if, like me, you have already read Oryx and Crake. YOTF is more a novel of ideas than action - and Atwood's satire comes across as both sophisticated and naif. Her child-like portmanteaux animals ('liobams' - lions crossed with lambs, and raccoon-skunk 'rakunks') belie the sophistication with which she has constructed a world in which corporations govern, and science tries to bioengineer utopia.