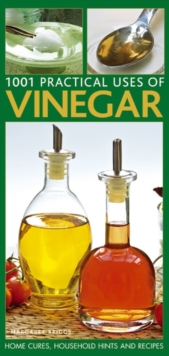 Practical Household Uses of Vinegar : Home Cures, Recipes, Everyday Hints and Tips
Paperback / softback
Description
This title includes home cures, recipes, everyday hints and tips.
It is a celebration of one of nature's most powerful ingredients and how to use it for health, cleaning and in cooking.
It includes a brief history of vinegar and a guide to the many different varieties that are available.
Using vinegar for natural cleaning around the home, in the laundry, medicine cabinet and kitchen.
It includes recipes for preserves, sauces and marinades, and how to make your own vinegar.
Vinegar is an amazing product which has hundreds of uses around the home, not just limited to cooking.
A natural cleaner, it can be used to freshen laundry, to cleanse and fragrance the air, and to add sparkle to many household surfaces.
Vinegar comes in many forms, from red wine and cider varieties to malt and rice vinegars.
You can even make your own vinegar at home. In the kitchen, it is a powerful preservative, as well as being a delicious addition to every kind of dish.
This fascinating book explores the history of vinegar, from the time it was discovered by accident more than 10,000 years ago.Since then, it has become recognized as one of nature's most diverse and miraculous products, capable of doing the jobs of many household substances without causing chemical damage to the environment, or to our bodies. Why use manufactured cleaning fluids which could destroy the elasticity of your skin, when vinegar can do the job even better?
This handy volume is full of hundreds of suggestions for making the most of this useful and versatile ingredient.
Information
Format: Paperback / softback
Pages: 160 pages
Publisher: Anness Publishing
Publication Date: 31/12/2012
Category: Household hints
ISBN: 9781780192321