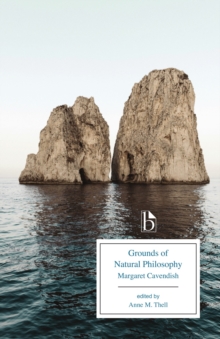 Grounds of Natural Philosophy
Paperback / softback
Description
In recent years, academic interest in Margaret Cavendish has greatly increased as scholars from across the humanities strive to outline her contributions to seventeenth-century debates about natural philosophy.
This edition aims to make her most mature and important work more accessible to students and scholars of the period.
Grounds of Natural Philosophy is important not only because it is Cavendish's final articulation of her metaphysics, but also because it succinctly outlines her fundamental views on 'the nature of nature'-or the base substance and mechanics of all natural matter-and vividly demonstrates her probabilistic approach to philosophical enquiry.
Moreover, Grounds spends considerable time discussing the human body, including the functions of the mind, a topic of growing interest to both historians of philosophy and literary scholars.
This Broadview Edition opens to modern readers a vibrant, unique, and provocative voice of the past that challenges our standard view of seventeenth-century English philosophy. Key FeaturesThe only existing print edition of Cavendish's most mature philosophical text. Grounds is important to Cavendish's oeuvre, not only because it is the final statement of her metaphysics but also because it demonstrates how Cavendish's philosophical thought evolved over time. Thematically broad, Grounds discusses, among other things, health and the human body, perception, motion, materialism, and the mind - topics that connect with other works in early modern philosophy and with the philosophical concerns of today. Cavendish is one of the few early modern women who wrote and published extensively in philosophy and who dared to publically dispute major issues with her more famouscontemporaries; her work offers a vital and alternative voice to the male-dominated realm of seventeenth-century natural philosophy. A substantial introduction to this edition places Cavendish within her philosophical context while also outlining her career, surveying recent critical debates, and explaining some of the most important philosophical aspects of the text. Appendices include excerpts from Cavendish's other major philosophical treatise, Observations upon Experimental Philosophy, as well as relevant selections of correspondence and excerpts from contemporaneous works of philosophy.
Information
Format: Paperback / softback
Pages: 264 pages
Publisher: Broadview Press Ltd
Publication Date: 28/02/2020
Category: Philosophy
ISBN: 9781554813872
Other Formats
Paperback / softback from £8.00