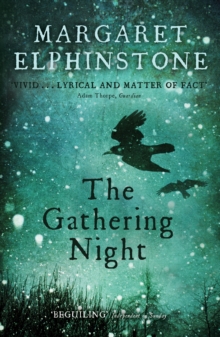 Gathering Night
Paperback
Description
Between Grandmother Mountain and the cold sea, Alaia and her family live off the land.
But when her brother goes hunting and never returns, the fragile balance of life is upset.
Half-starved and maddened with grief, Alaia's mother follows her visions and goes in search of her lost son. The Gathering Night is a story of conflict, loss, love, adventure and devastating natural disaster.
This gripping novel is set deep in our stone-age past, but resonates as a parable for our troubled planet 8,000 years on.
Information
Format: Paperback
Pages: 480 pages
Publisher: Canongate Books Ltd
Publication Date: 05/08/2010
ISBN: 9781847672896
Free Home Delivery
on all orders
Pick up orders
from local bookshops
Reviews
Showing 1 - 5 of 7 reviews.
Previous | Next
Review by charbutton
16/06/2015
The Gathering Night is set in the Mesolithic period in Scotland. It tells the story of the Auk people and the events that follow when a member of the Lynx people joins their tribe.The story is enjoyable and the way Elphinstone tackles the language and culture of the period is interesting. The tale is told by the main characters as they sit around the fire of the Gathering Camp with their tribe and I think this helps keep a tight narrative; there aren't overly long descriptions of landscape of hunting scenes which would have turned me off. The gender aspects can feel a bit clunky, there are a lot of statements like 'women are always listening to what doesn't concern them' to ram home the idea to the reader that stereotypes might have been part of that society. But who I am to say that Mesolithic people didn't speak or think that way??Overall I enjoyed reading it and I would suggest it to others but it doesn't need to be a permanent fixture on my shelf unlike other Elphinstone books such as Voyageurs or The Sea Road.
Review by elkiedee
16/06/2015
This story is told from the alternating narrative viewpoints of a number of different male and female family members. It is set in Mesolithic Scotland (the Mesolithic era or middle stone age was from about 8500-4000 BC). The family are hunter-gatherers and they travel to different places at different times of year.A young man, Bakar, disappears and is clearly dead, but why and how. His mother sets out to find out.There was a lot of interesting stuff in this book and it made me want to know more about the way of life at the time, though I'm not clear how much was based on research and how much was speculative or imagined. In a very brief Afterword, the author explains something about the setting, acknowledges some sources and tells us about some of her choices, eg the characters apparently have Basque names - although we don't know what they really might have been called, the Basque language Euskadi is the only one that goes so far back. I would have enjoyed a much longer afterword.As a historical novel, this falls into a common problem of offering a mass of historical detail (whether real or made up). Though the characters tell their story in the first person, I didn't feel a sense of any of them as real people. I was interested in the parts of the narrative about baby-rearing and naming etc, but I wondered if gender roles were generally as fixed at this time as they are portrayed as being in the novel. It seems unlikely that the research going that far back can establish this, as there aren't the written records that have come down from later periods. I thought that at times the novel reads as though lots of mid 20th century assumptions and ideas have just been plonked a few thousand years back....I am curious about the history, but this didn't work for me as a novel.
Review by GeraniumCat
16/06/2015
I'm disappointed that I didn't ever really engage with this book. The writing is beautiful, very measured and considered, staying with concepts that are appropriate to its characters, and the storytelling is divided up between the main characters in a way that keeps the story moving forward. I loved the concept behind it, and the Afterword is helpful and informative (I read it when I was 50 or so pages in, and I don't really see why it can't have been a foreword). I wanted to love it. Margaret Elphinstone wrote one of my favourite books, Hy Brasil, and I thought both The Sea Road and Voyageurs were excellent (I gave copies of Voyageurs to several people). Perhaps it just wasn't for me, or I was reading it at the wrong time. I'm not unwilling to give it another go, and maybe then I'll fall in love with it. If you are looking for a slow, thoughtful book, one you can get dreamily lost in, and that offers a very plausible account of early Mesolithic peoples, then give it a try.
Review by anglemark
16/06/2015
The setting of this novel is prehistoric Scotland. The reason I know this is because I read the author's afterword after I'd read the novel; when I started reading it, I thought it was probably set among some aboriginal culture, perhaps native Americans. After a while I stopped thinking about when and where the story took place - it wasn't really relevant to the narrative. However, after having finished it, I find myself thinking that this could equally well have been a science fiction story about an alien race - that is not to say that the people are not recognisably human, because they are, but Elphinstone succeeds admirably in creating a culture that does not draw on cultural elements from our own time and reality. The culture is based on thorough historical research, but of course the author has to flesh out the meagre bones that have been preserved to our time.The novel tells the story of life, death and the cycle of the years in a Mesolithic society. Different narrators tell different parts of the story; this is a narrative device I normally enjoy very much but I don't think it worked that well in this instance, because all the different people who tell the story have exactly the same voice, use the same kind of expressions and the same turns of phrase, and it left me wondering why Elphinstone used this device, rather than having a third-person narrator.There are many fascinating aspects to the Mesolithic culture that is described. Names are extremely important, and the people hold a firm belief in the rebirth of deceased people, who return as newborn babies. It is important that a baby is recognised as a reincarnation of a dead relative soon after birth, and this recognition returns that person's name to the realm of the living. The names of dead people who have not been reborn yet are never mentioned in the story at all; this is very cleverly done and felt completely believable. (That the names are Basque because Basque has "a pre-Indo-European origin" did not feel very believable, though - but that is a different discussion, and as I don't know any Basque I was not bothered by it until I read the afterword.)Another aspect is the families' movements between different camps and homes as the year changes. This is described in an entirely credible manner, and like the naming conventions and rituals the reader is never explicitly told what is going on - Elphinstone lets us discover it gradually by seeing what happens.A less credible part of the culture, however, is the gender roles in the society. It is obvious that in a society that depends on muscular strength on the one hand and the ability to bear and rear children on the other, men and women are going to have very clearly defined roles. But the patriarchal society, the rules concerning who is allowed to speak to whom, and the contempt that each gender holds for the other feels more like something that is based on a society where men and women meet very rarely and sex is something unmentionable, than something based on a society where people live very close together and where the greater strength of the males and the females' ability to bear children are recognised as indispensible for the survival of the group. To me, the gender separations felt artificial, like rather exaggerated versions of gender roles from our own age.Something that felt entirely natural and which I enjoyed very much indeed was the custom of understatement, which shone through many of the dialogues in the novel. That was one of the things that made the people in this story into much more than just primitive humans struggling for survival. All in all, this was a very enjoyable novel. It is obviously fiction, but I was very interested to read about the historical background of the events and cultures described.
Review by TheCrow2
16/06/2015
Set in the mesolithic era, this book tells the story of a hunting-gathering clan. The narrators of the book tells their parts of the story which make up a whole at the end. The problem is that sometimes (mainly the first half) the book is simply boring... It speeds up to the end which is exciting and pace-turning but there are tens of pages where nothing happens at all... Most of the characters are one-dimensional with a few exception.On the whole, far not the best book ever read but has an interesting theme in an interesting historical age.