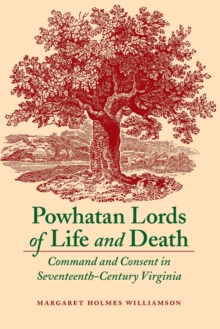 Powhatan Lords of Life and Death : Command and Consent in Seventeenth-Century Virginia
Paperback / softback
Description
A richly textured portrait of the famous Native leader Powhatan and his realm emerges in this revisionist study.
For decades the English colonists at and around Jamestown lived in the shadow of a powerful confederation of Native American communities led by Powhatan.
That realm encompassed the Tidewater area of Virginia from the James River to the Potomac River.
For many years Powhatan skillfully staved off threats from other Native peoples and from European colonists.
Despite the prominence of Powhatan during the early colonial years, our knowledge of him and life in his realm is filtered nearly completely through the eyewitness accounts of Europeans.
In Powhatan Lords of Life and Death, an incisive structuralist perspective and an impressive synthesis and reinterpretation of available records by anthropologist Margaret Holmes Williamson provides a more complex and culturally appropriate view of the realm of Powhatan during the crucial early decades of the seventeenth century.
Alternative conceptions of power and cosmology are set forth that force reconsideration of important components of Powhatan society, including the basis of leadership, the relationship between political leaders and religious specialists, the role of ritual, and the resonance of Powhatan cosmological beliefs with those of other southeastern Native peoples.
Powhatan Lords of Life and Death revisits a pivotal figure in American history and enables us to appreciate more fully Powhatan and the fascinating world he helped to create.
Information
Format: Paperback / softback
Pages: 344 pages, 12 figures, 1 map
Publisher: University of Nebraska Press
Publication Date: 01/01/2008
Category: History of the Americas
ISBN: 9780803260375
Free Home Delivery
on all orders
Pick up orders
from local bookshops