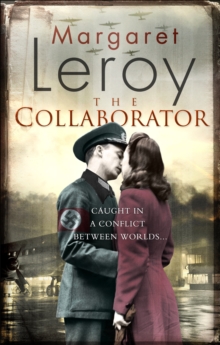 The Collaborator
Paperback
Description
There's a sudden scatter of birds in the sky. I flinch. Little things seem violent to me. And in that moment my decision is made.1940, Guernsey...Vivienne de la Mare waits nervously for the bombs to come.
Instead comes occupation. Nothing is safe anymore. But was anything truly safe before?The facade of the perfect wife, with her husband fighting on the frontline, cracks under the strain of the lie.
Her new life is one where the enemy lives next door.
Small acts of kindness from one Nazi soldier feels like a betrayal.
A forbidden friendship in a frightening world. But how can you hate your enemy when you know his name, when he makes you feel alive, when everything else is dying around you?Vivienne is fighting her own private war.
On one side, the safe, secret, loving world she could build with her captain; on the other, virtuous loneliness and danger.
It's time for Vivienne to choose: collaboration or resistance...
Information
Format: Paperback
Pages: 480 pages
Publisher: Mira Books
Publication Date: 01/05/2011
Category: Historical fiction
ISBN: 9780778304593
Free Home Delivery
on all orders
Pick up orders
from local bookshops
Reviews
Showing 1 - 4 of 4 reviews.
Review by nicx27
16/06/2015
Vivienne de la Mare is from London, but now lives on Guernsey, after marrying an islander. Eugene is away fighting in the war and so Vivienne is alone with her two daughters, and her mother-in-law. When Guernsey is occupied by the Germans in 1940, she finds herself living next door to them and having to make a decision about whether to make them her enemy, or to try to live alongside them. She becomes particularly close to one of the officers, Captain Lehmann, and the story of forbidden love between them is absolutely beautiful.The story is told in the present tense by Vivienne. This doesn't always work well, but in this book it is exactly right as it gives the opportunity for the reader to really feel the love, the tension, the anxiety, and all the other feelings that she has.Margaret Leroy's writing is so elegant. I found myself not wanting to rush this book at all. Even near the end, when normally I find myself speeding up, I was reading slowly to savour every word. And when I did get to the end I found it so sad and moving that I cried.This book is definitely a candidate for my book of the year, and I'm looking forward to reading more of this author's work.
Review by DubaiReader
16/06/2015
The Collaborator, also issued as 'The Soldier's Wife'.I had never read anything by Margaret Leroy before, but I enjoyed this mix of histoical fiction and love story. Usually I read a book for a book group and end up giving it more stars after the discussion. Unfortunately this book was the opposite, after my fellow readers had picked out a number of flaws in the narrative, I was no longer able to give it 5 stars. Still, 4.5 stars is a good rating and I did learn a fair bit about life on Guernsey during WWII.Vivienne de la Mare is the mother of two girls, wife to a soldier who is off fighting and daughter-in-law to his ageing mother. Before WWII they live a quiet life in a beautiful corner of Guernsey.The German occupation of Guerney was much less violent than other parts of Europe, but it still had a huge impact on the residents of the island. Curfew, shortages and an influx of slave workers had a dramatic effect on the lives of the islanders, and The Collaborator illustrates this well.What has stayed with me after reading this book was, firstly, the interactions between the two girls, the older one fourteen at the start of the book and her sister, just four. There was a big age difference, yet they obviously loved and supported each other.Secondly, the ageing, forgetful mother-in-law, who is so sympathetically described.And finally, the love story side of the book, which shows the enemy as real people with family left behind and a human side.In spite of its flaws (which I can't mention without spoilers), this was an interesting book for discussion and was generally enjoyed.Also readThe Guernsey Literary and Potato Peel Pie Society by Mary Ann Shaffer (3.5 stars)
Review by sunnycouger
16/06/2015
For 90% of this book, I really loved it. I was engrossed in the story, the love affair, the angst and I was full of questions regarding the future but the last few chapters were just...deflating. The story is simple - a woman is raising her family in occupied Guernsey and begins a relationship with a German soldier who moves in next door. Her daily life is often at odds with her life after dark when she and her lover lay in her room and leave the war and everything else at the door.<br/><br/>As someone not overly aware of what life was like during the island occupations, the book was interesting in that regard and as life became tougher and the information gleaned from gossip became more and more dark, it was easy to see how hard it could have been. Throw in seeing first hand the plight of some of the POW's and the brutality by some of the soldiers and it could have been just another 'bad German' book. This didn't happen though and the book is saved from the pure stereotyping by showing the humanity of some of the occupiers - be it a couple of the soldiers next door (Max, a former doctor who calls Vivienne's daughter over to see a butterfly) or Gunther, Vivienne's lover who worries over his son who was recruited into the army - at one stage we even see a party held by young German soldiers. I think this balance is often lacking in books - the lack of acknowledgement that not all Germans were bad, and to be honest I find books that can admit that to be a much more gratifying read. In a book like this in particular, where we are being asked to buy into a love story, it was absolutely necessary.<br/><br/>The first person narrative means we never really get to know anyone other than Vivienne in the book. I found her a decent narrator, a little naive at times, a little abrupt at others but because we lived all these experiences with her it was easy to see why she reacted in certain ways, for better or for worse and the narrative was well written. I often find first person narratives lazy, but this suited the story and the experiences well. We felt what she felt and wondered about the same things and you couldn't help but wonder, 'how would I have reacted in her place?'<br/><br/>It was easy to invest in her, and her life, and her lover - she had come from an unhappy marriage and had found an all-consuming love, but as the later chapters showed, in a lot of ways, it wasn't real enough. Realistically, even when the war ended she and Gunther were never going to have a happily ever after, yet reading it you tried to ignore the sense of impending doom and hope for the best. <spoiler> Naturally, the best doesn't happen and she ends the relationship after a POW who she was helping is shot and she blames him for turning her in. Even with the same information she has, it was clear to me that she was jumping to the wrong conclusions and that was one of the things that bothered me about the ending of the book - their relationship ending would have been tragic enough, but for it to coincide with Gunther's son dying and him being shipped off to Russia and THEN dying while Vivienne becomes pregnant just felt like melodrama that cheapened things. It irritated me that even after Vivienne learned that Gunther hadn't betrayed her and that the reason he was upset that last nigh wasn't because he'd betrayed her, but was instead because his son had died that she still didn't go and comfort him even knowing he was going to the Eastern Front - this was a woman who hadn't conformed to what she 'should' have done throughout the book, so it was hard to accept that there was that indifference in her. The man she had professed to love, who had helped her family, who had allowed her to stay in her home had just been horribly bereaved and she didn't ever speak to him after the break-up and wrongly accusing him (at least internally) of such an ooc betrayal? As I said...deflating.</spoiler><br/><br/>There were a lot of good things in the book - it was a quick read, the secondary characters were interesting, it was layered with interesting subplots with the children, the POW's and her mother in law, but I wish the ending had been different. The epilogue tied up loose ends (a little too neatly) but I will admit to almost shedding a tear as she got the bookmark back. In a way though, it still only served to make me more irritated with her behaviour at the end of the book - it was all a little too late and I wanted to nip back in time and hug Gunther that night, since she didn't do it!<br/><br/>My criticism probably sounds a bit harsh for a book that I have given 4 stars to, but I genuinely did love most of the book. The silly flaws such as Vivienne's preferential treatment (not being deported) not being met with bad treatment from the other islanders, the lack of resolution regarding how everyone reacted <spoiler>to her pregnancy</spoiler> didn't really bother me that much. As I said, for 90% of this I would have given the story 5 stars but I needed more from the resolution than I got. I didn't need a HEA, I just didn't need the soapy melodrama.
Review by SilverThistle
16/06/2015
Nazi occupation on Guernsey during WWII. Doesn't really conjure up images of a lovely romance for me but I think this is considered Historical Romance. The only thing I found romantic about it was the language and the setting but I did enjoy it. While reading it the star rating swung from 4 to 2 to 4 and finally settled on 3 but then just at the last page jumped it back to 4 again, at the last second. I didn't like the ending particularly but I didn't see it coming so it got an extra star for the shock factor.<br/><br/>Vivienne, a soldier's wife, is living on Guernsey with her 2 daughters and her mother-in-law while her husband is away fighting for his country. When the German army come to occupy the island she learns to come to terms with restricted living. When a few Nazi soldiers commandeer her empty neighbour's house she's drawn to one of them in particular (Gunther), and so begins the 'romance'. Vivienne's marriage is an unhappy one and I get the impression that her marriage was over a long time before her husband left to fight but to be honest I still have no clue what she ever saw in Gunther. He didn't strike me as romance material but I think Viv was just miserably unhappy and lonely and whichever of the Nazi's had shown an interest in her would have had just as much chance to get with her.<br/><br/>I didn't feel that the romance was actually the focal point of the story for me. It was always there in the background but I was more interested in the Historical aspects. The Resistance from the Islanders, the Prisoners of War, the shortages and rationing...in general the results of the Occupation on the island. There were some really touching moments and some harrowing moments, as you'd expect from a war-time drama and all the characters were really well written and I really cared what happened to them.<br/><br/>I was frustrated with the ending though. I was all set to give it 3 stars overall and file it under 'a good read' but then I got to the end and I lost my footing. I'm still not sure how to deal with it. Not sure if I liked the ending, neither am I sure I disliked it. It took me by surprise and when I read it I wanted to know more and was annoyed that I'd never find out...then back pedalled and thought the shock ending was the right way to deal with it. Argh! I don't know. I'll just say it was a surprising end to a good book. Not sure if it was good or bad ending but it <i>was</i> surprising.<br/><br/>It's a nice gentle read, despite the war theme and the occupation and I'd maybe read more by this author.<br/><br/>