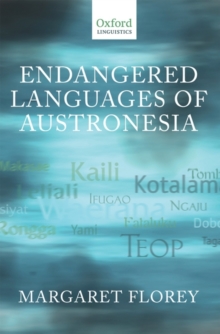 Endangered Languages of Austronesia
Hardback
Description
Austronesian is the largest language family on earth: Some 1300 languages, 20% of the world's total, are spoken by 270 million people in a region that extends from Easter Island in the Pacific 10,000 miles west to Madagascar off the coast of Africa.
Many of the languages in this diverse and linguistically rich region are undocumented and in imminent danger of extinction.
This book provides a critical account of current knowledge, reviews the state of thedocumentation of languages in the region, and considers the linguistic effects of government policies and economic change.
The editor's introduction draws out the key issues and themes.
An overview of the Austronesian language family then examines the historical relations between the languages, their diversity,and their distribution in the region and describes the nature and aims of contemporary research.
Individual chapters are then devoted to the revitalization of languages in Taiwan, the Philippines, Indonesia, Brunei, East Timor, and Vanuatu. This pioneering account of one of the world's most linguistically rich regions offers direction and impetus to research in linguistics and anthropology, and holds out the means of saving many endangered languages and cultures.
Information
Format: Hardback
Pages: 320 pages, Maps, Tables, Figures
Publisher: Oxford University Press
Publication Date: 10/09/2009
Category: linguistics
ISBN: 9780199544547
Free Home Delivery
on all orders
Pick up orders
from local bookshops