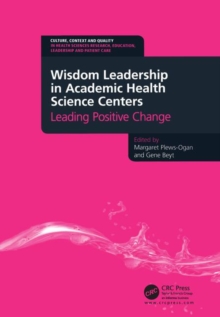 Wisdom Leadership in Academic Health Science Centers : Leading Positive Change
Paperback / softback
Description
'Patient-centered care is really about finding the thread that connects us as human beings with our patients.
Compassion, meaning, gratitude, joy, these are all aspects of that thread that we share.
This thread is what connects us to one another in the best possible way...This book on leadership is all about how we, as leaders, can foster capacities that can help us, and our health-care communities, to be our best selves, together.' From the Preface This inspiring new book from the Culture, Context and Quality in Health Sciences Research, Education, Leadership and Patient Care Series directly confronts the challenging times in which the business of health care finds itself. With a specific focus on the concept of wisdom, it considers the critical role of leadership in fostering and developing culture in health care.
Each of the chapters reflect a key component of wisdom and ways to nurture wisdom in both individuals and organizations.
It features personal accounts, interviews, and case studies demonstrating the benefits of working together as one. Fully referenced and passionately written, this book offers practical solutions for healthcare educators and leaders at all levels.
Information
Format: Paperback / softback
Pages: 256 pages
Publisher: Taylor & Francis Ltd
Publication Date: 20/10/2013
Category: Health systems & services
ISBN: 9781846195716