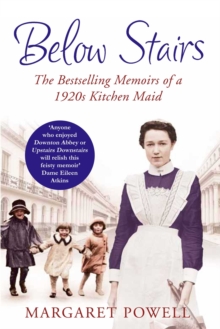 Below Stairs : The Bestselling Memoirs of a 1920s Kitchen Maid
Paperback
Description
Arriving at the great houses of 1920s London, fifteen-year-old Margaret's life in service was about to begin...As a kitchen maid -- the lowest of the low -- she entered an entirely new world; one of stoves to be blacked, vegetables to be scrubbed, mistresses to be appeased, and even bootlaces to be ironed.
Work started at 5.30am and went on until after dark.
It was a far cry from her childhood on the beaches of Hove, where money and food were scarce, but warmth and laughter never were.
Yet from the gentleman with a penchant for stroking the housemaids' curlers, to raucous tea-dances with errand boys, to the heartbreaking story of Agnes the pregnant under-parlourmaid, fired for being seduced by her mistress's nephew, Margaret's tales of her time in service are told with wit, warmth, and a sharp eye for the prejudices of her situation.
Brilliantly evoking the long-vanished world of masters and servants, Below Stairs is the remarkable true story of an indomitable woman, who, though her position was lowly, never stopped aiming high. 'Enormous gusto, salty humour, wisdom' Evening Standard 'Shrewd, unabashed, wickedly funny, a unique front-line report of her life's experiences' Jack De Manio, BBC
Information
Format: Paperback
Pages: 288 pages
Publisher: Pan Macmillan
Publication Date: 01/03/2011
Category: Memoirs
ISBN: 9780330535380
Free Home Delivery
on all orders
Pick up orders
from local bookshops
Reviews
Showing 1 - 5 of 7 reviews.
Previous | Next
Review by jellyfishjones
16/06/2015
This is a quick read made enjoyable and very accessible by the author's conversational tone. It's written as if she's telling you all this over a cup of coffee with a conspiratorial wink now and again. For history buffs, it offers the immense appeal of being a first-person narrative of a time period that saw many hugely significant events - no less than both World Wars, universal suffrage, and the advent of radio among several other things. Add to this Powell's knack for social observation, and you have a thoroughly engaging book.
Review by mazeway
16/06/2015
A very fun, fast read. It's the memoir of a woman, born in 1907, who served as a kitchen maid and cook in the houses of the London elite. It was this memoir that inspired" Upstairs, Downstairs" and, thus, "Downton Abbey." Her voice is very forthright and charming. It was a great glimpse into the place at this time.Review haiku:Be kind to your helpIf the cook does not like youLife will not be sweet
Review by mchwest
16/06/2015
I enjoyed reading this and other books like it after the return of the show Downton Abbey. This book had an awesome recommendation from the creator of Downton Abbey, Julian Fellowes, also he starred in the series…Monarch of the Glenn. It wasn't a thriller book but enjoyable reading, I can't imagine being in service all my life, but interesting to get the perspective on below the stairs.
Review by mydustyshelves
16/06/2015
Recently, I borrowed the first season of Downton Abbey from my public library. The contrast of the lives of the upper class gentry with their servants' lives is fascinating, as are the attitudes each class holds for the other. When I saw this memoir, written by a woman who entered service as a lowly kitchen maid in the 1920's, I knew wanted to read a first-hand account of this period in history. Margaret was born second out of seven children to a poor family, and while she enjoyed school and had the skill and desire to become a teacher, she knew her family needed her help. A couple extra years of school, even on scholarship, would be impossible. While her family loved her, they were unable to keep feeding her. At the age of 14, she went to work in a laundry, and a year later entered domestic service. She accepted this fate as her lot in life, yet was troubled by injustice. Seeing the amount of food wasted every day in the upper class households brought to mind her hungry parents and siblings. Her employers seemed to think their help were a different breed. It would always surprise them to find out that Margaret knew how to read, much less that she enjoyed learning. That is, if they ever found out. Margaret notes that to many of the upper class, the servants were "invisible". Mr. Kite, an older butler who had been in service since the age of thirteen, comments on his days in a large country manor."Well, they were so far above the servants that they literally didn't see them. I remember one evening when I'd risen to be a footman, I was waiting at the dinner table after the ladies had retired and the port was being circulated, and the gentlemen were talking about a very scandalous rumour that involved royalty, and they were all adding their quota to the rumour. One of the guests remarked, 'We must be careful that nobody overhears us,' to which the host replied, 'How could they overhear us? We're alone here,' and at that time there were three footmen in the room."The mere fact that one was born to a particular social class clearly determined what they could become and how they should be treated. As time went on, it was obvious to Margaret that this social climate was beginning to change. War time changed things. The upper class had fewer possessions and money and some employers began to see their servants as fellow human beings. This book follows Margaret through these changes in attitude. To hear a first hand account of this time and place in history is intriguing.
Review by delphica
16/06/2015
This was a lot of fun, it's the memoir of a woman who worked as a kitchen maid and cook in England. It's a quick read, and it jumps right into the down and dirty details of being in service. There were tons of interesting details about the households -- although in truth, I can't get enough of this and there could have been ten times as many details and I would have been absolutely fine with that. She's obviously quite intelligent (or was, I guess, she died in the 1970s) and conveys her reflections about class, labor, and society succinctly, thoughtfully, and without any hand-wringing. And she had a wry, understated sense of humor that was a pip. There were a few "WELL BACK IN MY DAY" comments that could have been annoying if they were preachy or whiny, but you truly got the sense she was arching an eyebrow and than moving right on. It makes me sad she died 40 years ago, because everything about this memoir made me want to go take her out for drinks.