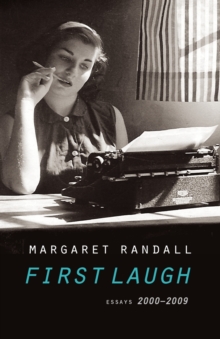 First Laugh : Essays, 2000-2009
Paperback / softback
Description
Concerns about power, its use and abuse, have been at the center of Margaret Randall's work for more than fifty years. And over time Randall has acquired a power all her own, as her unique ability to observe, consider, and distill experience has drawn readers into new experiences and insights.
Tempered by time and reflecting a life fully lived and richly examined, her thoughts on race, gender, poetry, landscape, cellular memory, and personal loss speak with eloquence and urgency.
First Laugh invites readers to ponder the role of race and racism in the 2008 presidential election; the nature of repressed memory in understanding oneself; the place of poetry in social change; the efforts of Pueblo Indians to earn historical recompense for Spanish colonialist atrocity and subsequent abuse; and the bonds of intimacy and shared political conviction that sustain family and friendship.
Over the course of her life, Margaret Randall has found herself with the abstract expressionists of the 1950s, the activists of the 1968 Mexican student movement, the Cuban revolutionaries of the 1970s, the North Vietnamese during the last years of the U.S. war, and the Sandinistas. It is our privilege to have her among us now, documenting moments at once personal and universal and showing us new ways to see.
Information
Format: Paperback / softback
Pages: 232 pages
Publisher: University of Nebraska Press
Publication Date: 01/03/2011
Category: Literary essays
ISBN: 9780803234772