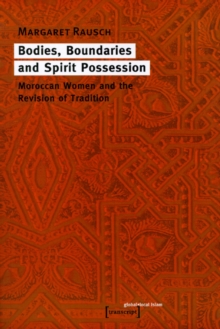 Bodies, Boundaries and Spirit Possession : Moroccan Women and the Revision of Tradition
Paperback / softback
Description
The social structures of Moroccan society have been changing in accordance with western models at an ever-growing rate.
The role of Islam in sharing the burden of these changes and in narrowing the ever-expanding gap between modernity and tradition is exemplified by the folk-Islamic spirit possession practices presented in this study.
By adjusting their vocation to ongoing processes of commercialization and professionalization and to the changing needs and expectations of their female clientele, traditional women seers have increasingly taken on the therapeutic task of helping women to resolve the growing number of inner and interpersonal conflicts in their daily lives.
The work is divided into several major themes. Sidi Ma'ruf and Perceptions of Bodies and Boundaries; Shuwwatat as Innovators: From Seers to Self-Made Businesswomen: Marginalizing Women: Spirit Possession, Mother-Daughter Relationships and Independence; Self-Proclaimed Religious Experts and Their Clientele; and The Lila Women and Communal Religious Ritual. The author's reflections on fieldwork methodology were influenced by the critical and self-reflective discussions about research in the field, the process of "othering," the process of interaction and communication between the self, or observer, and the other, or observed, of the preceding two decades.
This encounter is too often isolated from the world-historical conditions that shape it because there is a lack of mutuality in it and it often takes place in a social void.
Rausch constantly grappled with barriers and hindrances that might have blurred her perspective and impede her interactions in the field.
Even experienced scholars, she recognized, are given to make changes in their forms of interaction with informants, in the topic or focus of the research as well as in their approach or methodology in the field.
In fact, it is most often the case that if no alterations are made between the original conception thought out before entering the field and that which is eventually carried out once there, the researcher has probably failed to adequately represent his or her fieldwork.
Information
Format: Paperback / softback
Pages: 275 pages
Publisher: Transcript Verlag
Publication Date: 15/10/2000
Category: Islam
ISBN: 9783933127464