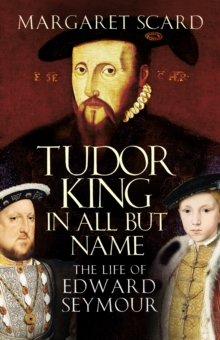 Tudor King in All but Name : The Life of Edward Seymour
Paperback / softback
Description
In January 1547 Henry VIII lay dying. His heir, Edward VI, was just 9 years old and all England waited expectantly to see who would hold the reins of power until he came of age.
Within days of Henry's death, the privy council overturned the terms of his will and Edward Seymour, Duke of Somerset, was named Lord Protector. For nearly three years, Somerset was 'king in all but name', but, though he was a skilled soldier and leader on the battlefield, Somerset's political skills were not so well-honed.
His single-mindedness and overbearing attitude towards the privy councillors alienated the very men whose support he most needed.
When they lost patience with him, the scene was set for conflict. To the people Edward Seymour was the 'Good Duke'. To his fellow councillors he was a traitor. This is a story of Tudor ambition, power and the ultimate price of failure.
Information
Format: Paperback / softback
Pages: 448 pages, 16 Plates, color; 25 Illustrations, color
Publisher: The History Press Ltd
Publication Date: 31/03/2020
ISBN: 9780750993944
Also by MARGARET SCARD