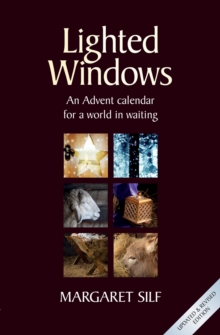 Lighted Windows : An Advent Calendar for a World in Waiting
Paperback / softback
Description
The world waits - sometimes holding its breath in fear of what tomorrow may bring, sometimes in a haze of busyness, or boredom, in which we hardly know what we are waiting for.
Yet we still wait in hopefulness. The birth of a baby invariably stirs deep wells of hope in the human heart.
Perhaps in this generation, things will get better. Perhaps this child will make a difference. As we approach the Christmas season we prepare to celebrate the coming to earth of someone who really does make a difference.
At this season the 'windows' of our human experience can change from rows of faceless panes, perhaps grimy with dirt, into lighted windows that open up new possibilities and coax us into a place where rejoicing might be possible.
The journey mapped out in this book is an invitation to look into some of these lighted windows, and discover a few reflections of what we wait for, and long for-reflections of God's guidance, his call to trust him and live by his wisdom.
Each window seeks to bring familiar scripture into focus with everyday living, encouraging us to enter right into the place where God is coming to birth, and to make the experience of Bethlehem our own. And finally, the windows become doors, through which we are sent back to a waiting world to share our personal experience of God-with-us.
Free Home Delivery
on all orders
Pick up orders
from local bookshops