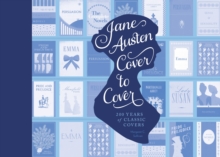 Jane Austen Cover to Cover
Hardback
Description
In the short forty-two years of her life, Jane Austen wrote six novels that would endure long after her death in 1817.
The texts are true classics, unchanged and yet still immensely popular some 200 years later, but the covers have changed with the times-from the elegant inscriptions of the famous Peacock cover, to pulpy sixties pop art, to graphic novels, Twilight-inspired copycat covers, and mystifyingly bad digital editions.
With over 200 images of covers spanning as many years of Austen books, this fascinating, funny, and art-filled book is a must for Janeites, design geeks, and book lovers of every stripe.
Information
Format: Hardback
Pages: 208 pages
Publisher: Quirk Books
Publication Date: 06/11/2014
Category: Illustration
ISBN: 9781594747250
Free Home Delivery
on all orders
Pick up orders
from local bookshops
Reviews
Showing 1 - 5 of 12 reviews.
Previous | Next
Review by Jaylia3
16/06/2015
Showcasing 200 years of Jane Austen book covers with large color photographs and entertainingly informative text, this is a book Austen fans will treasure, but really anyone interested in history, the evolution of book publishing, or changes in graphic art will have lots to enjoy in its pages. The covers chosen vary wildly, from gorgeous to hilarious, and the passages explaining their circumstances and putting them in historical context are fascinating. In Austen's own day each title was published in three volumes, bound demurely in what looks like leather and decorated with gold lettering and modestly patterned designs, but by the 1840's the smooth ride of train travel had revolutionized life and reading habits so wonderful looking but inexpensive editions with brightly colored picture covers were sold in railway station bookstalls. The most stunning cover is maybe the Peacock edition of Pride and Prejudice published by George Allen in 1894, though there are more than a few contenders. Through the years there have been many variations: sweet covers, noir covers, psychedelic covers, tastefully classic covers, YA influenced covers, and even slightly risque covers. Since Austen has fans all over the world it's only fitting that there's a section of covers from around the globe, lettered in languages other than English. Jane Austen Cover to Cover opens with a timeline that stretches from Austen's birth to the first episode of the Lizzie Bennet Diaries, and it includes a brief synopsis of each novel and novel fragment in its final pages. I read a fully finished copy of this very lovely book provided without cost to me by the publisher through LibraryThing. The review opinions are mine.
Review by thehistorychic
16/06/2015
Read/Looked for Review (Quirk)Overall Rating: 5.00Photograph Rating: 5.00History Rating: 5.00Review: Words cannot express how much I LOVED Jane Austen Cover to Cover by Margaret C. Sullivan. If you are a Jane Austen fan there is plenty of history in this about the covers, printings, and tidbits about Jane. If you are a cover fan, you will love the 100s of ways these covers have been imagined (both English and non-English covers). This went on my Jane Austen shelf and I saw several covers I would love to get my hands on! This is a MUST for any Austenite!Favorites: Oddly enough my favorite covers were of my least favorite book: Persuasion! Though I can see where that one gives to a lot of creative freedom!PersuasionPersuasionPersuasionPersuasionLeast Favorites: I hate this trend on YA and Erotic novels. So it is no surprise I didn't like Jane Austen getting the treatment: The flower, apple, whatever cover!Northanger AbbeyPride & PrejudiceSense and SensibilityPS: Perhaps my favorite giggle moment was the "bodice ripper" inspired covers. They could have given Harlequin and Avon a run for their money!
Review by cbl_tn
16/06/2015
This decade will see many anniversaries related to Jane Austen, from the publication of her first novel to her death. Jane Austen seems to be as popular as ever nearly 200 years after her death, and many publications are taking stock of Austen and her work at this two century milestone. Margaret Sullivan has compiled two hundred years worth of examples of cover illustrations from Austen's works. The examples range from first editions to ebook "cover" art, abridged editions for younger readers, audio recordings, graphic novels, movie tie-in editions, and translations into other languages.From these examples and Sullivan's commentary, readers may trace Austen's reception among both scholars and the general public through the last two centuries. Readers may draw conclusions about the publishing industry by reflecting on the ways in which Austen's works have been marketed to readers through the years. Social historians might find it useful for looking at Austen's impact on popular culture. Collectors may find it useful for identifying and adding particular editions of Austen's works to their wishlists.This book's own cover is eye-catching and will adorn any coffee table. It would be a perfect gift for any Janeites on one's gift list, with the added benefit that it will be useful for identifying more potential gifts for the next occasion. Highly recommended.This review is based on a complimentary copy provided by the publisher through LibraryThing's Early Reviewers program.
Review by JBD1
16/06/2015
A well-illustrated survey of Jane Austen editions and cover designs, from paperbacks to collected editions, adaptations to movie tie-ins, spoofs to foreign editions. Sullivan's short and often funny texts complement the illustrations very nicely. The introduction and other sidebar texts were a little to sentimental and frouffy for me, though, and there were certainly a few missteps in the opening section, where it wasn't made clear enough that the early editions pictured were specific copies, &c. Tiny gripes, but overall a very enjoyable book to leaf through.
Review by bookworm12
16/06/2015
I have a feeling that most people already know if they are going to like this book or not. You aren't going to have very many people who hate Jane Austen debating on whether or not to pick up a copy. But for those of us who love her work, this collection is an absolute delight! I knew the book would have dozens of different covers of her work from over the years, but I wasn't expecting the intricate background information it included. From Austen's personal history to the path of publication of her novels, Sullivan provides some wonderful details. She walks us through all the different editions that were released, the peaks and valleys of Austen's population over the past two centuries and more.The photos of the covers themselves are obviously the main attraction. There have been so many different versions of the books and this tome doesn't even include all of them. I loved seeing how different design trends affected the versions that were released in each decade. One of my favorite aspects is the author's snarky comments about some of the more melodramatic covers. I'll admit that if I'd seen some of those cover before reading the books, I might have developed a distaste for Austen without ever trying her work! Sullivan also includes pulled quotes from the novels and Jane Austen's letters, which was lovely. In one of her letters Austen refers to the books as her "children." BOTTOM LINE: Just gorgeous, the book is beautifully done and is a must for any true Janeites' bookshelves.*I received a review copy of this book in exchange for an honest review.
Also by Margaret Sullivan